So it finally happened. One of the dogs jumped into the raised pond yesterday and knocked over several soil-and-pea-gravel-filled pots of water plants. Add tearing into two mulch bags to that (and while we were outside dealing with that dog, the husky inside the house got my husband's dinner off the table). We were not happy campers. I had just taken a shower and was in nice clean clothes, then I found myself standing hip-high in the pond trying to collect gravel from the bottom with my toes and a hoe, and saving surface-preferring bog plants from the depths of our hot-tub pond. Eventually I gave up and just reached down and used my hands to get the pea gravel, drenching me pretty much from head to toe in pond water.
I suppose that looking on the positive side of things, I got to do a little check on the placement of plants in the pond, as well as remove any dead leaves from the plants that would otherwise have been difficult to reach. And it will force me to finally get those last two bags of mulch off the grass (what remains, anyway) and into the garden beds where they belong. I guess the only thing positive I can say about the dinner incident is that perhaps my husband didn't need those pizza calories anyway… I'm pretty certain there's nothing positive my husband would say about that one, though!
I do have to say that either the additional plants I got in the middle of the algae bloom or just the natural process of pond establishment has put the clarity of the water back on track. I can see the goldfish again, and they are happy. Here is one next to a lily bloom, the Perry's Baby Red. I worry that the pond is looking a little crowded with plants, and yet I'm determined to get a horsetail reed in there as a native plant.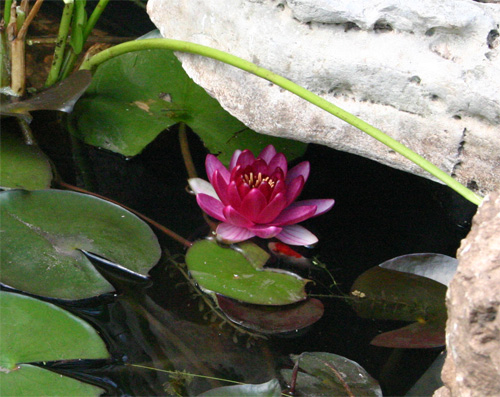 Today I saw my first visiting hummingbird! It was as startled as I was to see it, and it zoomed off before letting me take its picture. But I'm ecstatic and can't wait to see more.
And finally, I figured out the mystery plant in my garden. I'd planted three of them there in the early spring and forgot about them — in fact, I hardly watered them, but they are thriving. They are Fall Asters. I read today that I should prune them some this month to make them more bushy and covered in fall blooms. Hmmmm….