After taking an Organic Vegetable Gardening 101 class today, I get to jump straight into painting my garage, so I can't wander the yard with the camera. But I'm sneaking in this one picture for Garden Bloggers' Bloom Day — it was an exciting surprise bloomer for me. I planted the species last fall and not once had it bloomed until about a week ago, when all three of mine bloomed at once. It's a Cenizo (Leucophyllum frutescens), a common landscaping plant here in Austin, as the contrasting purple blooms against the silvery-green foliage is a striking sight. The little fuzzy hairs give it a very soft appearance.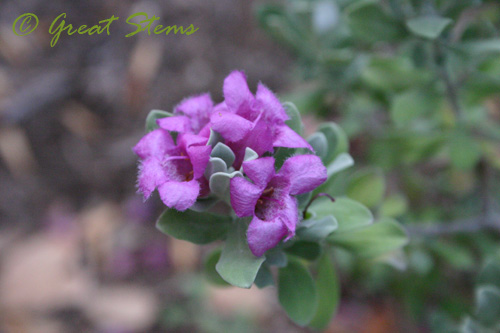 Cenizo is a beautiful, low-water-usage, heat-AND-cold-tolerant, any-kind-of-soil, sun-to-part-shade, dry-soil, nectar-providing, shelter-providing, screen-providing, deer-resistant Texas native shrub, explaining its huge popularity around Austin. How's that for a list of credentials? It's also known as Texas Sage, Purple Sage, and Texas Barometer Bush, among other names. It gets the name of barometer bush because of its tendency to bloom with rain.
One pet-peeve of mine, though: This plant is at its most gorgeous when only lightly pruned but mostly left to natural growth. Some people chop it to shape it, turning a once-beautiful plant into a hideous disaster. Keep Cenizo Wild!
Tomorrow I'll post some of the veggie gardening tips we learned at the class. And now I'm off to paint! I don't know why I used an exclamation point there, like I'm excited about it…