Gardening Gone Wild is having another contest, and this month's theme is Epic, or Your Favorite Frame. Much like others partaking in the contest, I found this to be a tough challenge, as I enjoy taking photographs, and while I have many favorites, could I choose one to be the best of the best? I struggled with that for awhile, culling through photos, and I decided that what the theme really is all about is challenging the photographer to look beyond the subject matter, beyond the straightforward quality of a photo, and discover exactly what it is about the image that gives it potential to become the photographer's top pick.
Sometimes what draws the viewer in is clear — it might be amazing lighting or composition, or an incredible close-up shot with crisp detail, or a softness to the image that invokes mood or emotion. The image I chose affects me on many different levels, and that is what I wanted. It invokes thought, and it's my hope that a viewer might find different elements that he or she reacts to. I took the photo while visiting San Miguel de Allende last fall.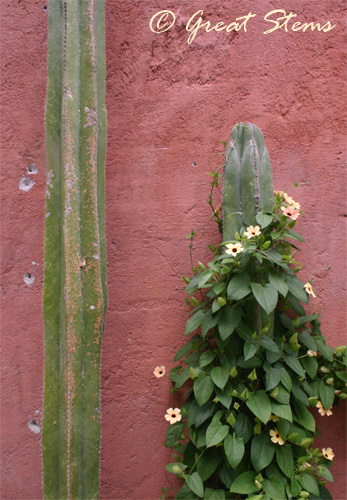 For me, I'm drawn to the opposing elements the image presents. The contrast between tall and short, between the softness of colors and blooms to the prickly cactus, between the beauty of the plants and new blooms against the old wall with what looks like bullet holes (I don't actually think they are bullet holes, but they get the imagination going), and of course between the bare cactus with the vine-covered one. I love the way the muted colors work together, and I love the balance presented. And the setting, Mexico, comes across in the image as well. Lots of different things to think about. At least that what it's all about for me! Of course, the photograph itself is special to me on a different level — it invokes fond memories of San Miguel and the family wedding that brought me to the area in the first place. After much indecision on what photo to choose for the contest, now that I've made my selection, it all seems clear.