Ohhhhhhhh, happy day. I've been waiting for two years to find Giant Swallowtail caterpillars munching on our Wafer Ash Trees (also known as Hop Trees). These trees were some of the very first plants we chose for our wildlife habitat, and I've been waiting and waiting for the those big, gorgeous butterflies to find them. Time and again over the past two years I searched, getting my hopes up when noting the occasional bird poop on the foliage, only to discover it was REAL bird poop. But look what I found today! Real bird poop caterpillars!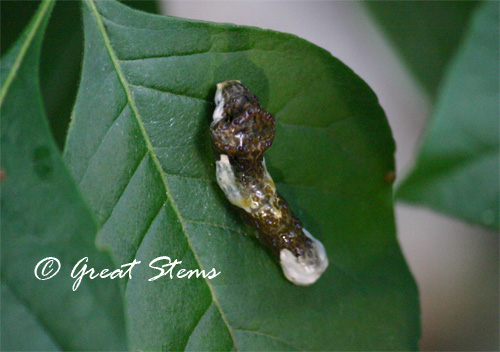 Aren't they beautiful?!!! Yes, and gross, too. I'm completely convinced that these caterpillars have the best camouflage of any creature in the world.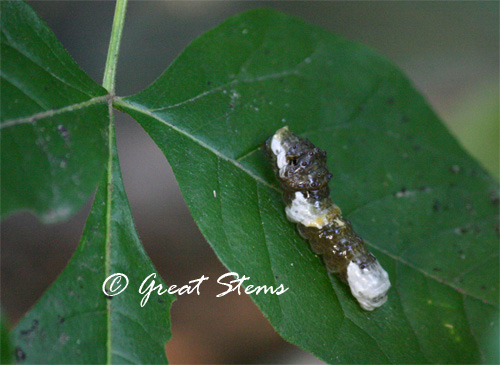 Not so much "camouflage," though — they really are quite out in the open, saying "Here we are!" But they sure don't look like anything I'd want to eat if I were a bird. We actually found three of them. I hope, I hope… that I'll get to watch them through chrysalis and butterfly stage. FYI, they also like lemon trees, lime trees, and other citrus trees, so if you don't have Wafer Ash, look for them on your citrus trees.
And whoa — another discovery! We have ripe Roma tomatoes! It's official — I have bird poop AND I'm a successful tomato gardener!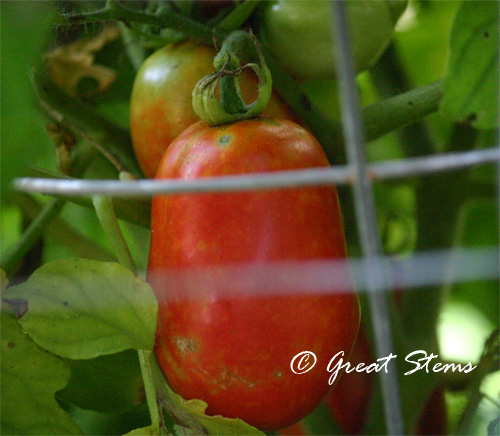 Happy, happy day.