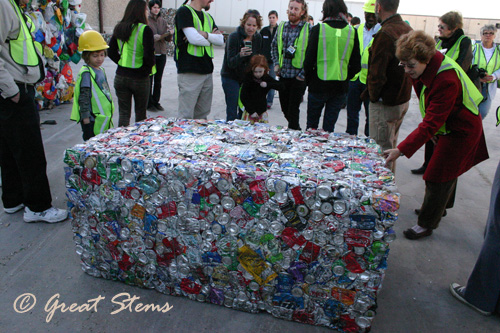 Don your Green hat and safety vest, and take a visit with me to a recycling center here in Austin. My son and I visited the center as part of a special tour set up by Keep Austin Beautiful, and it was an eye-opening experience for this green-blooded girl and her green-blooded kid.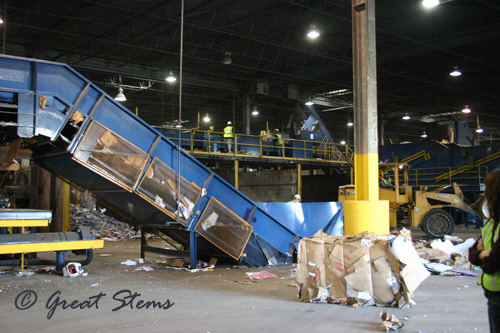 Allied Waste Services of Austin is a partner of Keep Austin Beautiful, helping keep our city clean and progressive in environmental stewardship. The local center is a MRF (pronounced merf), or Material Recovery Facility. It is separate from our single-stream processes, which involve a different facility, instead working directly with businesses and the community to take in recyclable items.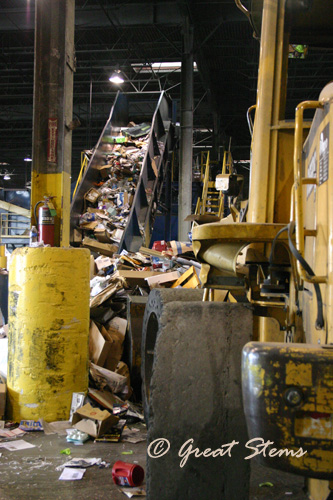 Day in and day out, they collect and transport materials, to the tune of an impressive 71 tons per day average just from this single collections center. From the Allied Waste website, "Allied Waste recycles approximately 3.3 million tons of materials annually. This metal, plastic and paper is equal to 200 pounds per second. Recycling the paper products alone is equivalent to saving 41 million trees. Every ton of paper that is recovered through recycling saves 3.3 cubic yards of landfill space." Yowza.
The tour leaders reminded us that recycling is a business, even though we environmentally-minded people like to think of it as a do-it-for-the-Earth-and-because-it's-right sort of action. The materials we send to be recycled get sorted according to type, condensed into big bales that are held by wire, and delivered and sold to third parties in the U.S. and the world to be processed into materials that can then be turned into other products. Bales = Value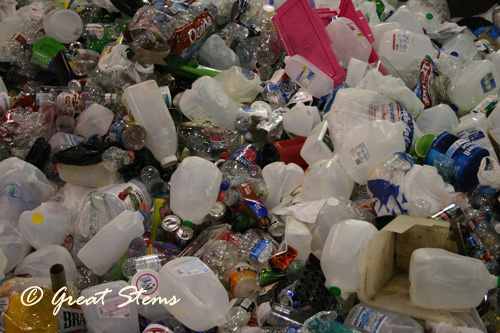 Plastics, for example, might become plastic lumber which can be used for park benches, construction materials, and so forth. Our living-room carpet is actually made from clear plastic bottles. Note: Before you think this makes it okay to buy lots of water bottles, note that the bottles themselves aren't made from recycled materials. Reduce your use first, please!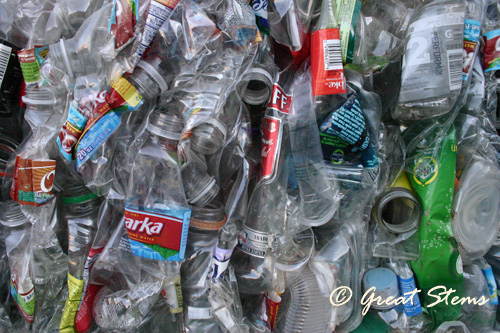 The facility in Austin separates paper and cardboard from all other goods, and from there sorts all the materials even farther. Big conveyor belts carry the materials up ramps to where machines and people both do the actual sorting.
White paper is very valuable, so it's packaged into its own bales, as is cardboard.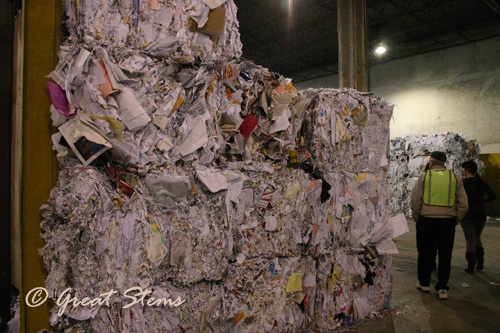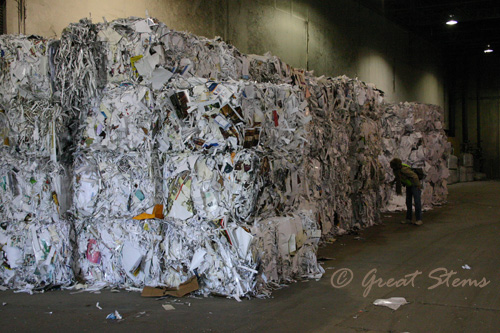 The plastic bottles, metal and aluminum cans, milk jugs, and so forth are piled together.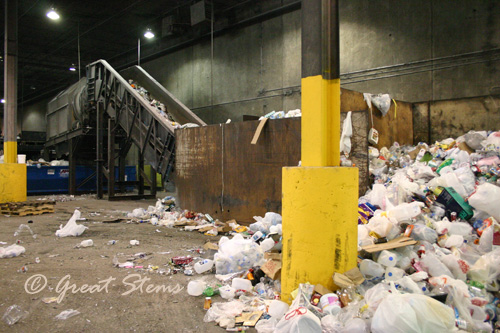 A giant conveyer belt pulls the commingled materials up, then a magnet draws out the tin cans. Aluminum is separated out with an eddy current.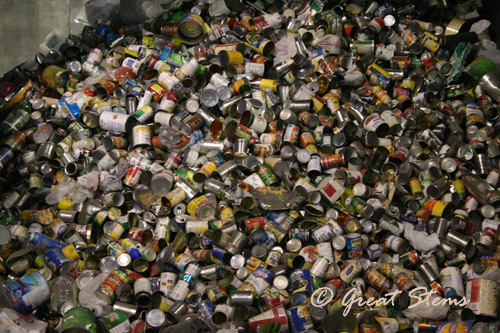 The plastics get sorted by hand. The numbers in the chasing-arrow symbols on the plastics indicate the resin they are made of, not whether they can be recycled. If the plastics are accepted for recycling, they are grouped by that identifying number, and they will get melted together at a specific temperature. Milk jugs are referred to as "natural plastic," which means that they are unpigmented. They get their own bin.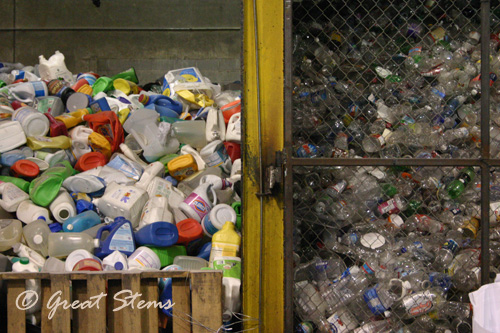 Pigmented plastics — like those for detergent — get grouped together, as do the clear drink bottles, of which there were a LOT.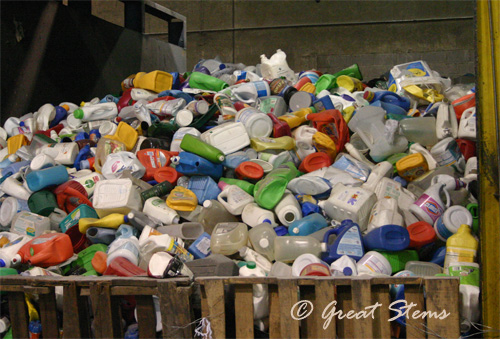 Once material is sorted and gathered, it is compressed into giant, heavy bales wrapped with heavy-gauge wire. These bales can weigh between 600 and 2,000 pounds depending on the material. Here is mixed cardboard and paper recently baled: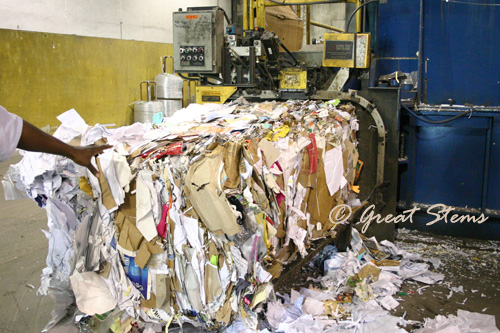 Once everything is baled, it is carried by forklift to be stacked with similar bales and to wait for the truck to arrive. One truck can carry as many as 48 bales.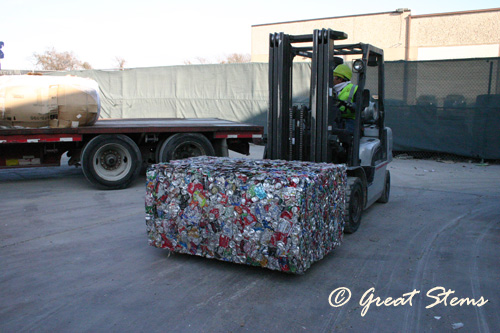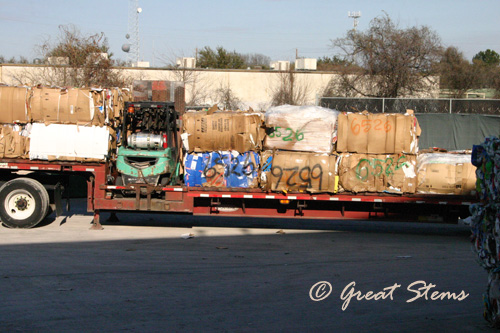 Outside, the bales are stacked neatly into formidable walls. From a distance, some of these bales look like blocks of colorful fabrics and textures, but a closer look reveals what the bales really contain: packed, compressed plastic bottles.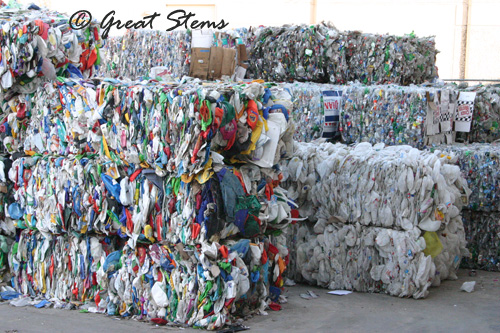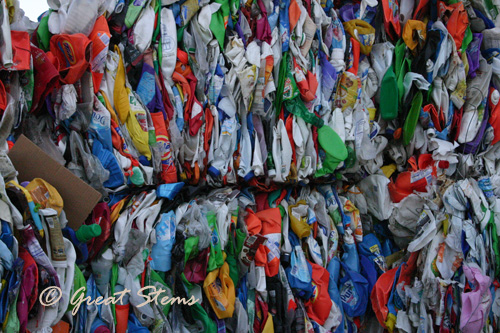 Look at this mountain of bales of clear plastic bottles: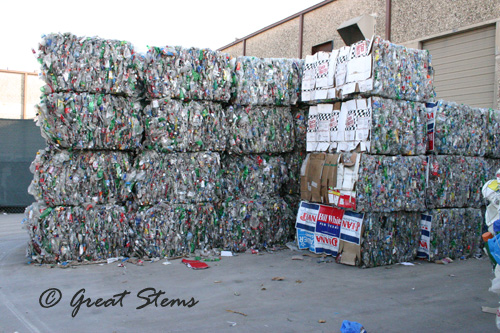 Depending on the items needed, the materials might be sent around the U.S., into Mexico, or even as far away as China. Plastics will be washed and shredded, then melted. The melted resin might be used to make pellets or flakes that will get further processed into new products.
Tips from the Recycling Center to make things better for the facilities that process and sort the materials:
1) If possible, sort the materials ahead of time — paper separate from plastic, and so forth. Single-stream facilities don't require this, but other collection facilities appreciate it, since sorting is done manually in most cases.
2) Remove any plastic caps. They are a different plastic resin, and they become dangerous like bullets when compression forces them off the plastic containers. You can send the caps in separately if the center accepts them, but regardless, remove them.
3) Rinse food out of the containers before you send them. While a little residue in a peanut butter jar isn't a big deal, larger bits or quantities of peanut butter is. Food is the Number One issue that recycling centers deal with. Not only is it an issue of spreading disease and ickiness, as well as the contamination and thus ruining of entire bales of materials, but here's another word for you: RATS. Help the facilities out by sending in materials that are reasonably clean of food.
4) A word about plastic grocery store bags: for them to be recyclable, they must be very clean — not just free of food but of dirt. Take these directly back to the store for recycling.
5) Though most places won't take styrofoam, a few facilities will take it if it is made of a plastic with a number accepted by the facilities — check your local recycling centers. Like plastic bags, the styrofoam must be perfectly clean of food and dirt, or it can't be used.
6) Be careful to only send in materials that actually are on the list of acceptable, recyclable items — remember, contamination can ruin a whole bale of good materials!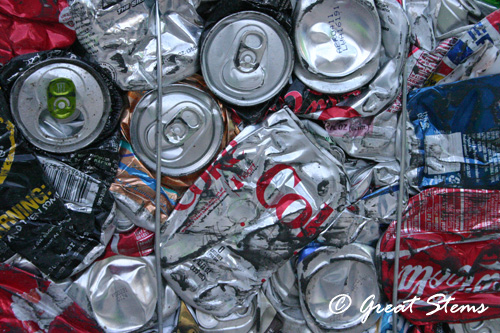 Here's an interesting fact: The recycling symbol with the three arrows that people associate with "Reduce, Reuse, and Recycle" actually refers to the recycling process itself: Collect, Process (make into something new), Purchase (a consumer buys a product made from the recycled materials). Recycling only works when you close the loop and buy things made from recycled materials, so do more than recycle — be a Green consumer, too!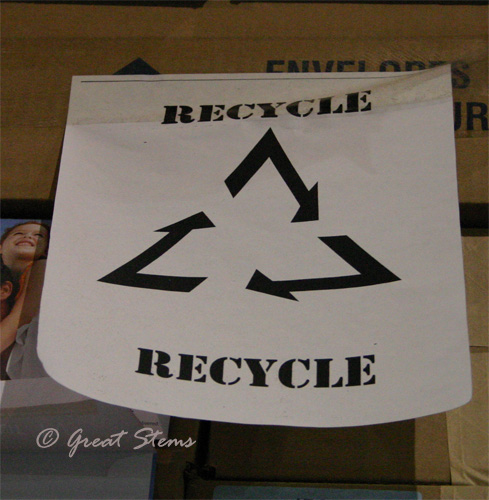 Whichever meaning is used for the chasing-arrows symbol, it all means one thing to me: helping the environment. Go Green!