Here I've been working on a new blog post for three days (you know me, lots of wildlife), and Bob shows up to install our new gate. So of course I couldn't rest until I got pictures up of the gate because I just absolutely love it and can't wait to show it off. So gate first, birds and bees later!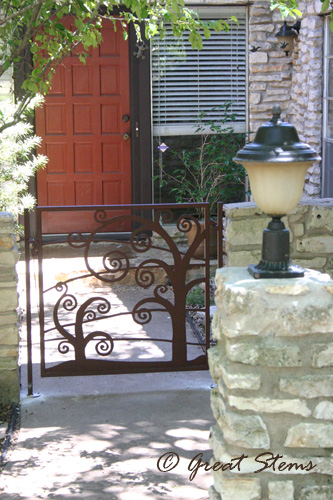 So I'll tell you a little story of how this came to be. I had these two jutting walls at my house's front that just screamed of needing a gate between them, and given how many times my dogs have escaped out my front door due to many a visitor innocently leaving the door open, I was screaming of needing a gate for a different reason. And then years went by, as they always seem to do.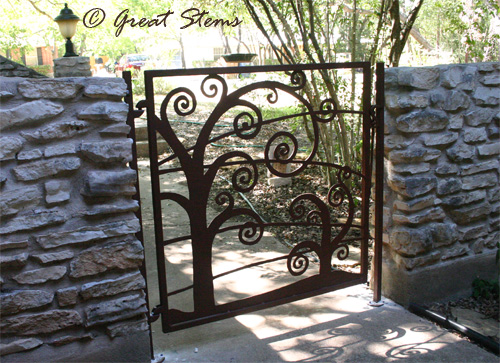 See the cool shadows on the ground? Bonus!
But fortunately here in the Austin area, we've got Bob. He runs Draco Metalworks, and let me tell you, he is quite the talent when it comes to metal. He's also a garden blogger and a man with many tales to tell. And when I said gate, he said yes.
The tree design is mine. I went through a number of sketches before the final concept — I'd considered tall grasses, sunflowers, vines. Then Bob sent me a picture of a gate with vines that had a few spirals, and those spirals sparked me toward a new idea, one still born of my love of habitat: trees, tall and understory, just the way nature does it. The background hills were born of necessity, both to fill gaps my dogs could potentially squeeze through but also to give stability to the gate.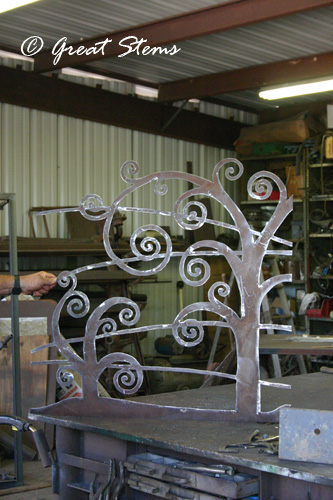 To show you Bob's talent, he cut the entire thing with a torch — giving it just the "made by hand" feel I was looking for. I had not a clue about hinges or latches, but Bob knew exactly what would be perfect, and he tied the latch in with a little spiral of its own.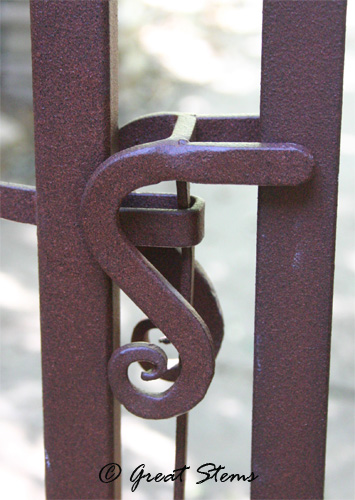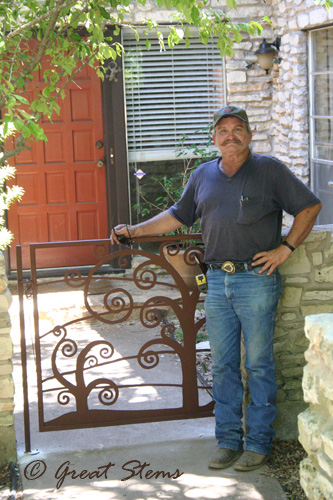 And I love it, just love it. Much like the transformation our ranch-style house underwent with a new red roof, and then a new paint job, and then a new flagstone porch — the gate has transformed the house yet again, bringing art and function to our front door.
I decided to see how the dogs would react, and to my astonishment when I opened the front door, they strolled casually outside instead of charged.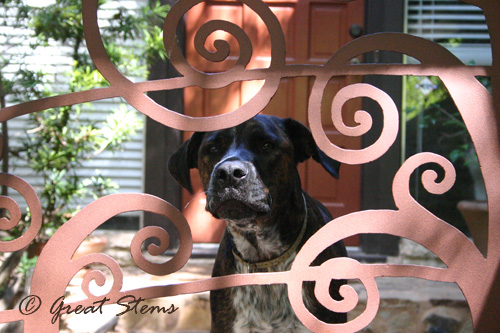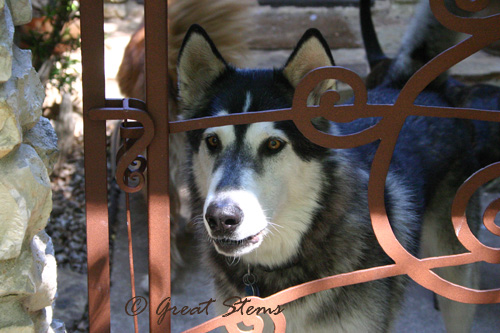 Clearly they recognized that they had a new barrier and there was no point in rushing.
Bob, masterful job — thank you so much. This gate is officially dog-tested and gardener-approved!