I must confess — that's not the original title of this post. My first title was "Take a Shower With Your Pizza Box," but I got awfully weird looks from my oldest son and a visiting friend when I tried that one. Then on advice of my son, I changed it to "I'll Take One Shower, Hold the Anchovies." But I really thought perhaps that one went further downhill, because it kept bringing borderline disgusting images to mind and if I really tried hard, they got really, really bad. Finally, I chickened out and went with simple, as seen above. But seriously, I do mean to say that you should take a shower with your pizza box. A bath with a pizza box might be a little weird, though. Wait a minute, SAY WHAT? Take a guess as to what I mean, and meanwhile I'll explain.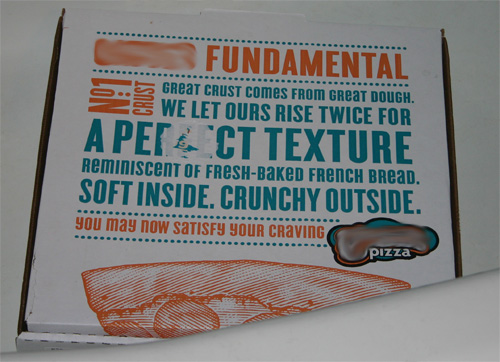 See, taking a shower with your pizza box (the corrugated kind) softens it up and makes it easy to tear (of course, you don't have to shower WITH it if you are shy about sharing private bathing moments with cardboard — just save some of the leftover water to soak the box in later).
And then if you tear your soggy pizza box into small bits — guess what?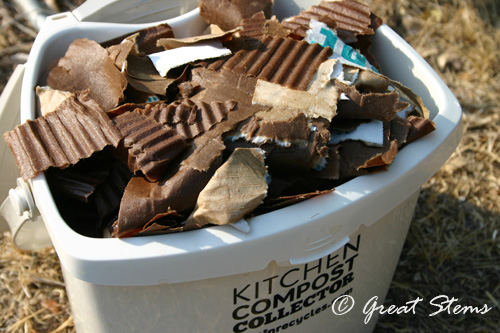 You can add it to your compost! It serves as a fantastic brown material, just like dried leaves (the compost recipe is 1 part green to 3 parts brown). It's a tip from Austin's recycling program, which also teaches people about composting. And it being a college town, Austin folks eat a lot of pizza. That means a lot of pizza boxes. And we don't want all those boxes going to the landfill.
But they can't be recycled either, not even with our wonderful single-stream recycling. Pizza boxes usually have a little grease in them, and in the recycling process, even a small amount of grease can be a contaminant — it can ruin a whole batch of potential paper product. But that small amount of grease won't hurt your compost, and if you have any concern at all about it attracting pests, just dig it a foot or more down when you add it to the bin. We have a Tumbler composter, so we just toss the wet bits in there and give it a spin.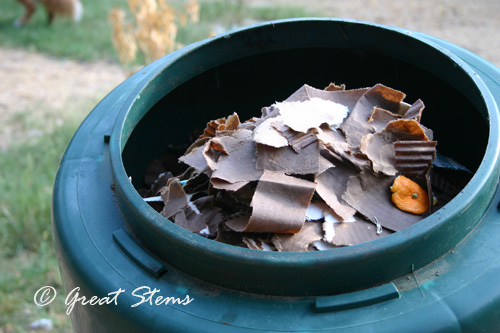 So compost your pizza box, adding a little water to make it easy to tear. But don't moisten the box with straight tap water — that's wasteful (and our severe drought means that every drop is even more precious than usual). Use that gray water from your shower or bath to soften up the box. If you are incredibly lucky enough live in an area that actually gets rain, then rain seems a fine box-watering choice if you care to hold out for it. But as another alternative, you can also use pizza boxes as a barrier for weeds when you are creating a new garden bed. We did this when we created the new bed around our pond, and it worked great.
Pizza boxes and compost. Who knew?