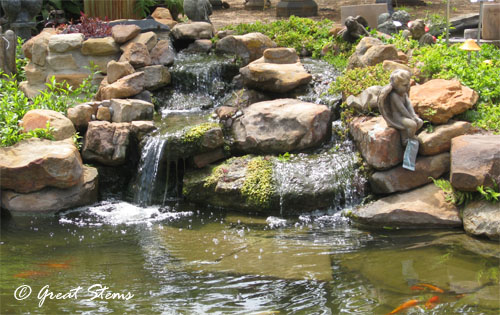 The extended drought really has created terrible hardships for our local nurseries, so all during October, designated Support Your Independent Nursery Month, several Austin garden bloggers have been highlighting their favorite nurseries each Wednesday to encourage people to get out there and give our local gems a little garden-shopping-kind-of-love. I can tell you that my garden and ponds would not even exist were it not for the wonderful plants, landscape materials, tips, and encouragement I've gotten from many of Austin's finest nurseries. This is such a great time to get back in the garden, too — fall planting is the best for so many plants and delicious veggies. Whether you're looking for new perennials or trees, pottery, holiday gifts, garden tools, or other items — this is a great time to get them!
Here's the extra exciting part: To tie in to Support Your Independent Nursery Month, eight Austin bloggers are offering great prizes to participating local nurseries. If you visit all eight blogs, you maximize your chances to win!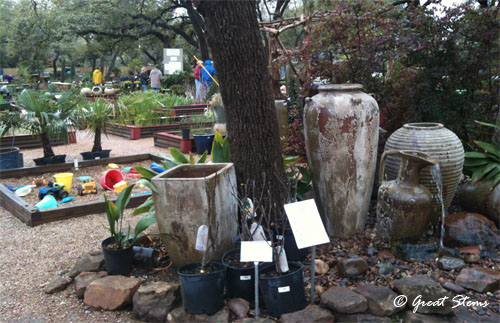 I'm quite pleased to be able to host a giveaway for a $50 gift certificate for Hill Country Water Gardens, one of my personal shopping spots. I visit HCWG for all my pond needs, and somehow I always manage to bring home plants or beautiful garden items with me, too. The many ponds, waterfalls, fountains, and streams found all over the 5-acre grounds are incredibly inspiring.
Hill Country Water Gardens is located at 1407 N. Bell Ave (old 183/Research Blvd.) in Cedar Park, just north of Hwy. 1431. The staff are friendly, knowledgeable, and quite happy to help you with pond information, aquatic plants, fish, and more. Furthermore, if you want a pond but just aren't a do-it-yourselfer, they've got a professional installation team that will build your pond for you, or help you maintain it, as the case may be.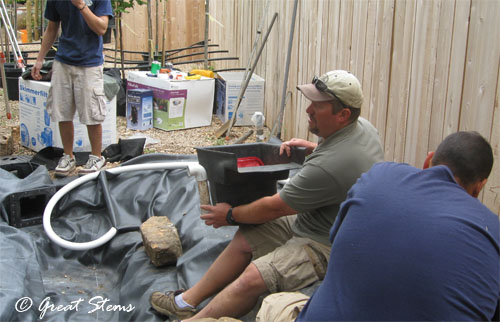 I also highly recommend the free how-to demonstrations HCWG staff regularly give to show homeowners how to install ponds and waterfalls, disappearing fountains, and disappearing streams. Great info and a perfect time to get all your questions answered about that new aquatic feature you've been wanting to build.
But Hill Country Water Gardens isn't just about ponds — they have a great selection of native and adapted plants, and they have some of the most beautiful and unique pottery and garden art I've seen. And now you've got a chance to go there with a $50 gift certificate!
If you'd like a chance to win this fantastic prize, here's what you should know:
You must leave a comment on this post to enter. If you have trouble with the reCAPTCHA, tell it to give you another set of letters to enter, or simply try again. Thanks!
Each participating blog will hold its own random drawing, so leave a comment on each blog to enter all the giveaways.
Only one comment per person per giveaway.
Participating bloggers and their families are ineligible to win.
Giveaway ends at 11:59pm on 10/26.
Winners will be announced on each blog on 10/27.
Winners must go to the nursery with a photo ID and pick up their prize in person within two weeks of winning. Prizes will not be mailed.
Be sure to visit the other Austin bloggers for a chance to win a gift certificate to other fantastic nurseries!
Thanks to all the participating bloggers and nurseries (and to Pam and BSN's Bernadine for planning all this) — what fun this is! Good luck, everyone!