Spring is already around the corner, can you believe it? Sure, it's still January, but many of us are already planning our spring gardens, preparing beds, and ordering more seeds. But while you're busy planning what gorgeous flowers and greenery will decorate your garden this year, think about what lies beneath — the soil — for that is what makes your garden grow… literally.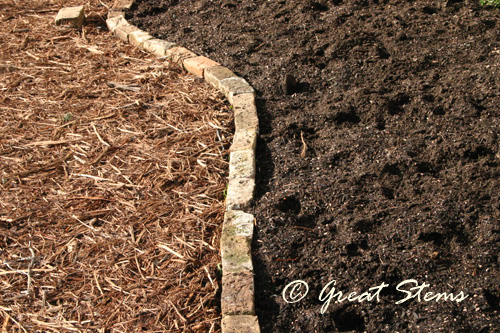 Your best bet for healthy plants starts with a healthy soil. But what exactly is healthy soil? Good soil is teeming with life. Many people have heard of food webs that show the relationship between plant-eaters and the animals that eat them, on up the food chain to humans. But did you know there is a whole food web just for what occurs in soil? Healthy soil contains organic matter to feed the little tiny creatures within the soil, and those creatures in turn break down nutrients into materials your flowers, trees, and shrubs can use.
Take a look at this diagram from the USDA website on soil.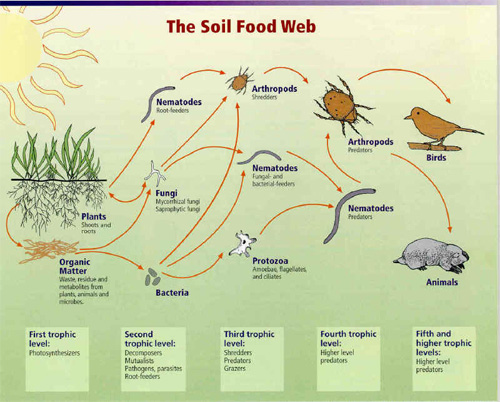 It shows that not only is it important to have a healthy balance of beneficial bacteria, fungi, protozoa, and nematodes, it all starts with organic matter in the soil. You simply have to have organic material in order to feed all the little guys that will do their part to take care of your plants naturally. Bacteria and fungi help retain nutrients in the soil, and protozoa consume the bacteria, releasing the nutrients into a form that plants can use. From there, beneficial nematodes consume bacteria, fungi, and protozoa, releasing even more nutrients for the plants. And while all these happy little beneficial creatures are eating their goodies, making their poop, and doing their part, they are denying nutrients to icky, disease-causing bad-guy creatures. Your soil is more protected with the presence of all those good guys, and your plants are happily reaping the benefits.
On up the food chain, arthropods, nematodes, and earthworms get consumed by larger predators, such as birds. And you can probably take the food web from there.
How do you know whether your soil is healthy? Well, one, you can have your soil tested, particularly if you are concerned about the mineral content of your soil (nutrient level) and whether you have any more serious concerns. But also consider whether you see many earthworms.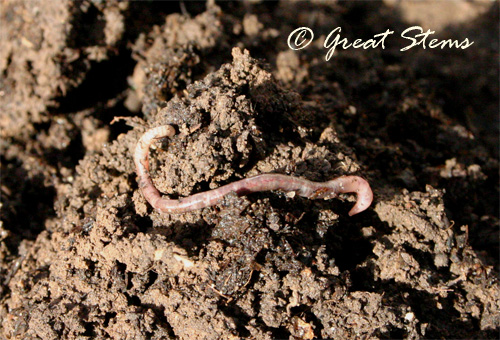 Earthworms are one of the best indicators of a healthy soil system. They consume bacteria and protozoa in the soil as organic material passes through their system, and their feces are rich with other microorganisms to help convert nutrients into a state plants use. They shred organic matter (making it more accessible to the microorganisms), loosen soil, create passages for oxygen and water to get into the soil, and their poop, or castings, are incredibly beneficial to the soil and your plants.
If you've been using chemicals on your yard for years, chances are that your plants are chemical dependent, or you might be starting to find that no matter how many times you spray, you just can't fix those brown spots in your lawn or resolve problems with fungus, etc. The chemical usage has disrupted the ecosystem, and getting your soil healthy again is the key to solving all those problems. You can help your plants transition off the chemicals simply by adding compost to your soil and taking advantage of multiple organic products out there that will boost your soil with microorganisms and/or natural nutrients, such as compost tea, seaweed, fish emulsion, and any number of organic mixtures and powders that provide microorganisms with food as a base. Leave your grass clippings and fallen leaves where they lay to decompose, resupplying the soil with the organic matter it needs.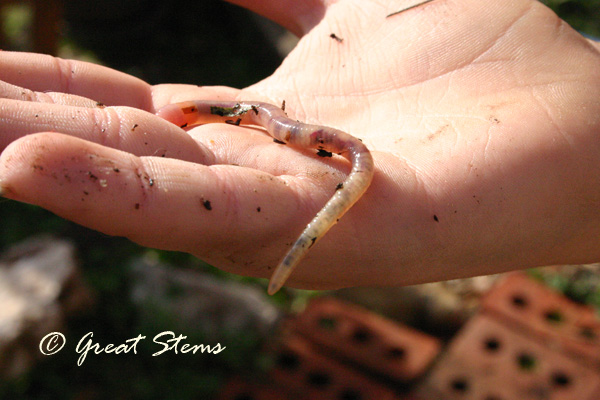 And when you start to see earthworms, rejoice. Do a little worm dance, because you have happy, healthy soil. We are starting to have so many earthworms here that it's hard to dig a hole for a new plant without worrying we might hurt a worm. We protect them, we love them, and yes, we do our little worm dances.