Last weekend I gave my last presentation of the spring, and the very next day I seized an opportunity to work in the garden for a change. It was a beautiful day, and of course in my eagerness to be outside, I forgot both hat and sunscreen, and I soon sported my first and hopefully only sunburn of the year. I wasn't alone out there, either. Basking in the warmth of the day was this beauty, a male Texas Spiny Lizard (Sceloporus olivaceus).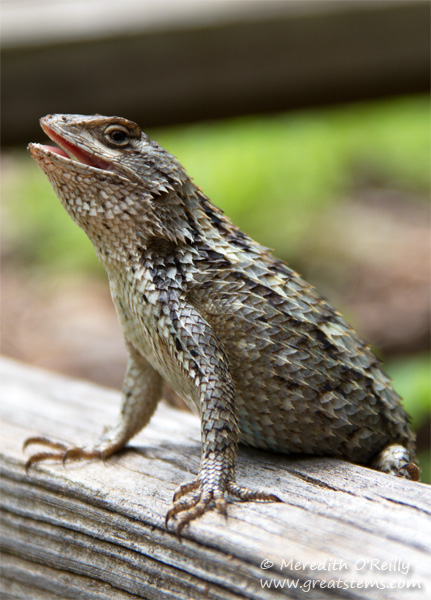 He was so chubby that at first I thought it must be a female ready to lay eggs, but nope, his markings clearly indicate otherwise. It's a little hard to see it in this image, but he has light blue stripes along the sides of his belly — females don't have these.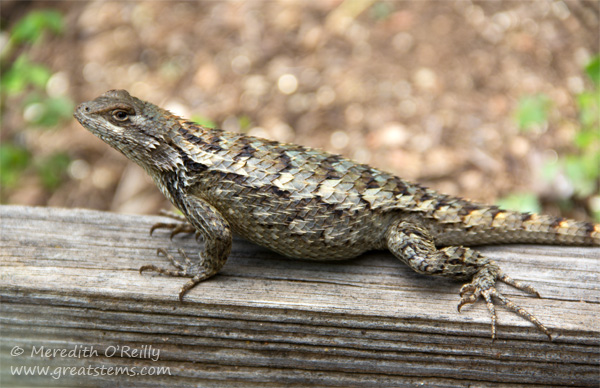 He wasn't afraid to let it all hang out, clearly. I'd like to think that if a female were nearby, he suck that chubby belly in, puff out his chest, and do a handsome pose. Clearly he should be practicing those defensive/offensive push-ups male Texas Spiny Lizards are known for (when confronted by other male Texas Spiny Lizards in their territory) — perhaps he could get in better shape. But then again, perhaps this round belly equates to "hot" in the lizard world.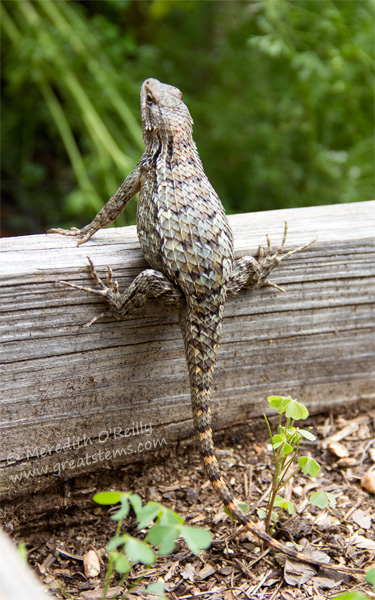 On the other hand, he's limber enough to do the splits, and to stay in that pose for a while while I took pictures.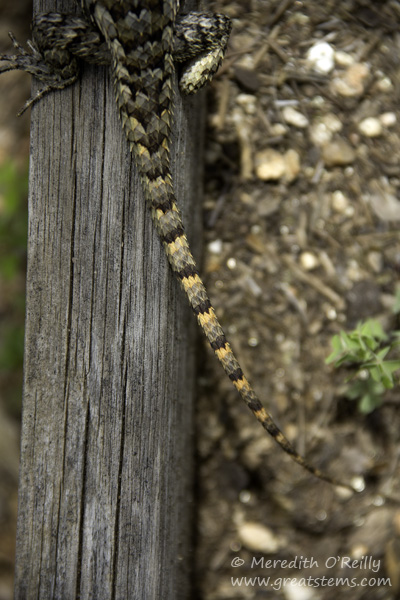 Check out the markings on his gorgeous tail.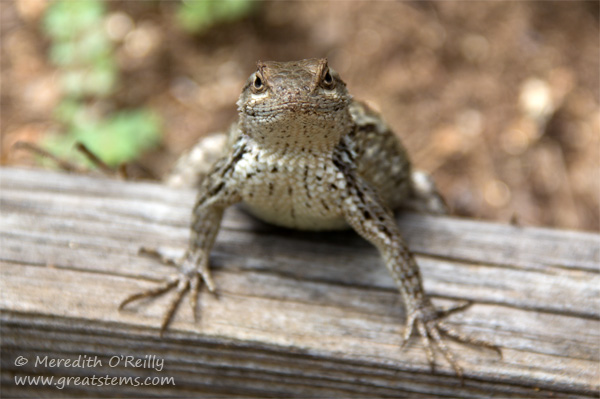 Yes, yes, you're a pretty handsome insectivore after all, little big guy.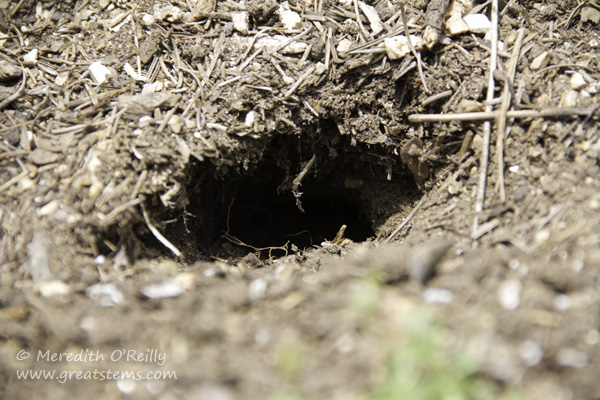 My son said he saw the lizard coming out of this hole in one of our raised beds. I wonder whether the lizard was using the little tunnel as a cool haven, or whether a female might be prepping to lay eggs in there. I haven't had a chance to inspect the spot since then to see whether the hole has been covered up or not. If it is, I suspect there might be little eggs inside.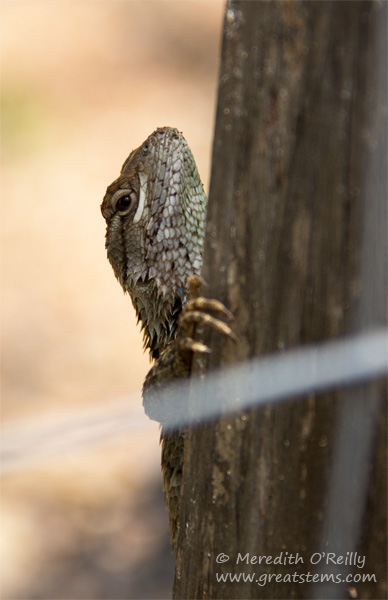 Despite being described as an arboreal species, I have these Texas Spiny Lizards all over my garden and rarely see them on a tree. I guess they have too much to feast on in the garden area. I imagine they'd blend in much better on the bark of a tree than on the wood of my veggie beds or on the rocks around on the pond. But I'm happy they're willing to hang out on the ground with me.
Getting back to working on the garden, I decided to tackle the weeding of a small perennial patch in the backyard, and in doing so had to move aside several bordering rocks. It's best to move such rocks carefully — all sorts of little creatures might be sheltering under rocks to stay cool and out of the light (scorpions, centipedes, snakes, etc.), and one wouldn't want to get a jolt of surprise or worse, pain, from reaching under a rock blindly. But under one rock, I did find a wonderful garden resident.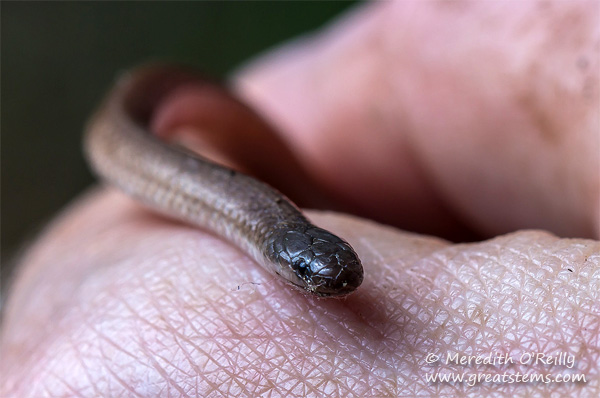 It was a Tantilla snake, one of the Blackhead species. Some people call them Centipede Snakes, named for their favorite food. The small snakes also eat scorpions and other invertebrates. Like their prey, they are nocturnal and favor rocks to hide underneath. They are colubrid snakes and are non-venomous.
I think this snake must have realized I'm a Snake Whisperer and completely calmed down in my hand. What a beauty. It was probably about 10-12 inches long.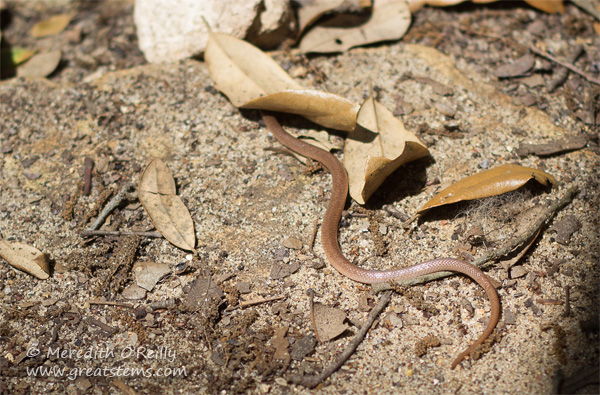 Of course, as soon as I set it down, the snake scurried off for shelter, making use of its fossorial lifestyle and digging right into the earth. But we were able to get a quick picture — you can see the earthy coloration of the rest of the snake's body.
And so I went back to weeding that garden bed. Lo and behold, under the very next rock was another snake, a much smaller one. It was a Leptotyphlops snake, or a blind snake, about 6 inches long. It looked almost silver in the sunlight but shows a pinkish undertone in the pictures.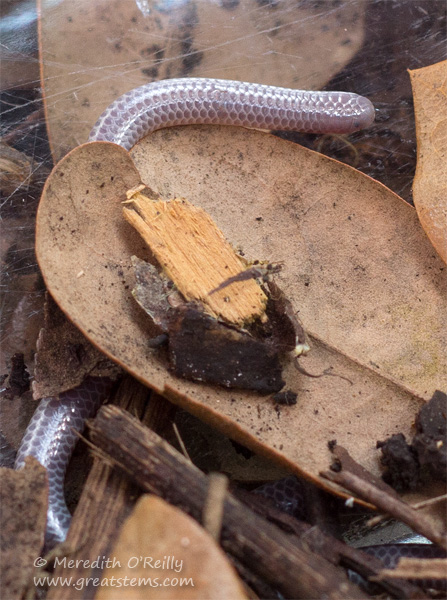 These little burrowing, nonvenomous snakes are often confused with earthworms due to their size and coloration. Their eyes are reduced in functionality, serving only to perceive light — they aren't truly blind, but very nearly so. They spend most of their lives underground.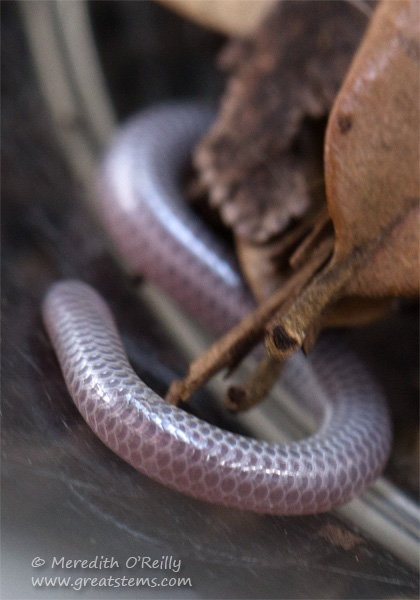 The main diet of blind snakes consists of ants and termites, along with their eggs, larvae, and pupae. It is believed that the snakes can follow the pheromone trail left by the insects in order to find their colonies. Sometimes blind snakes will also eat millipedes or centipedes. Their scales are smooth and tightly overlap, helping protect the snake from the bites and stings of ants. The tail ends abruptly, mostly rounded with a small point at the very tip.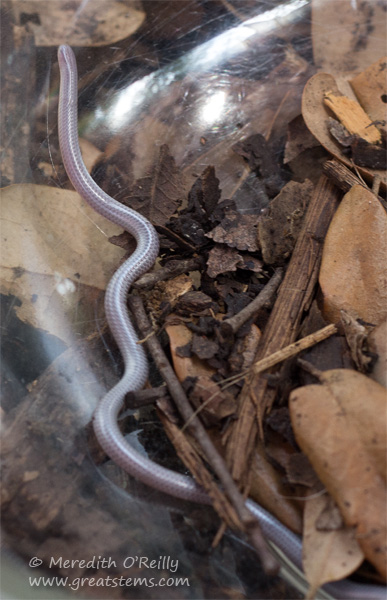 This little snake was quite a wiggler, and I used a clear bowl with some leaf litter to hold the snake for a moment while I snapped a couple of pictures. But I didn't want to stress the little snake out — I quickly returned it to the safe haven of its rock in the garden.
I'm so glad to run across these reptiles from to time in my garden. It means my wildlife habitat is functioning well in terms of the ecosystem —  predators such as lizards and snakes are natural and very important pest control. Of course at night, they have to be careful, too — we have hungry screech owls that are even higher in the food web, and they'd love a chance to catch one of these little snakes. The lizards, being diurnal, might be safe if they have a good place to hunker down at night. Always excitement in our backyard!