Down in southeast Austin along Onion Creek lies a somewhat tucked away state park called McKinney Falls State Park. The wealthy Thomas F. McKinney was one of the "Old 300" original settlers who received land grants in Stephen F. Austin's colony back in the 1820s (McKinney actually moved there around 1850), so this park definitely has its history. Now, some of that history sadly includes McKinney's use of slaves, the clearing of acres and acres of precious woodland, the racing of horses, and aid to the Confederacy — but this post isn't about all that! What it is today is a state park filled with walking and biking trails, with waterfalls, creeks, and historical buildings mixed in. And that's what this post is about.
The main areas of McKinney Falls State Park are divided into the Upper Falls and the Lower Falls. We visited the Upper Falls first. When rain is plentiful, the falls are much more substantial, but at least water was flowing. What I was particularly drawn to, and you'll see this in many of my pictures, is the erosion power of the water, shaping beautiful curves and channels into the rock.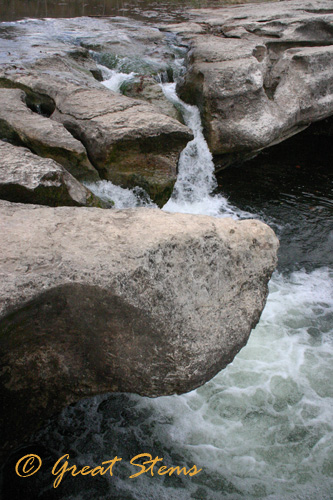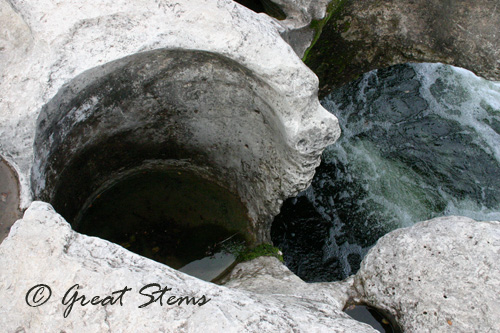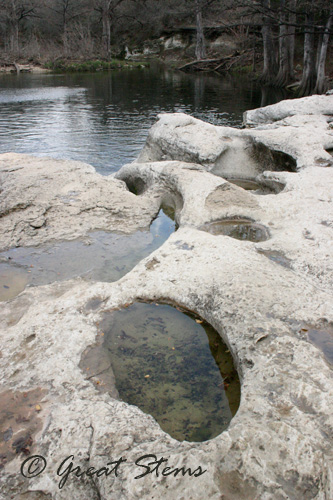 Below the falls is a larger pool in which people sometimes enjoy swimming. However, often the pool is closed to swimming because of high fecal counts due to runoff from upstream areas and flooding. During our visit, the pool was open for swimming, but given that it was December, it wasn't so surprising that no one cared to swim in the cold water. Bald cypress trees, complete with twisted roots, line the pool's edges.

Dogs are not permitted to swim at the state park, but the headquarters said it was ok to let them take drinks. Of course, leashes are also required at all times.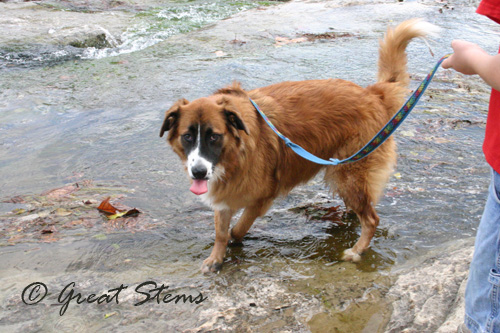 The Upper Falls trail is actually paved and seems a great place if you have young kids who like to ride their bikes while parents walk along. For adults on bikes, the distance is probably on the short side.
We visited in winter, and there were few leaves left on the trees, except for the annoying occasional invasive ligustrum which just thrived; its dark-green foliage really stood out when we ran across it.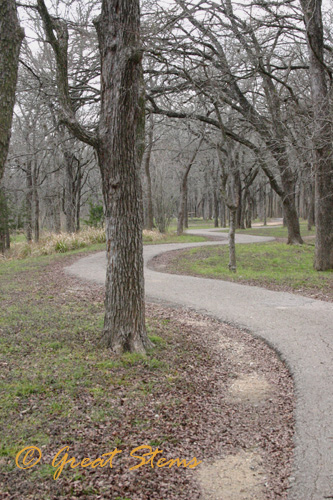 The path travels along Onion Creek, which Austinites know is the area most prone to serious and dangerous flooding during heavy rains. You can see evidence of flooding in the images below, though the results seemed to be to the basking turtles' favor.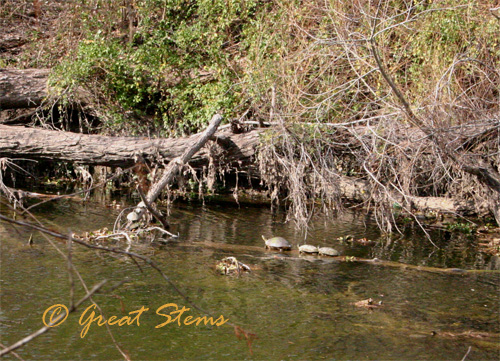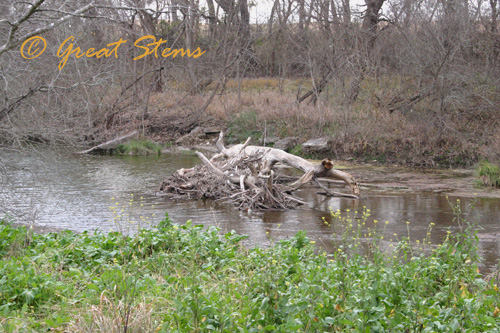 To get to the Lower Falls, you have to drive to a separate parking area, then walk for awhile across exposed rock. I imagine during floods that this whole area gets quickly covered in water. Again you can see the result of water erosion — broken limestone slabs and large pools carved out in the open rock, as seen below.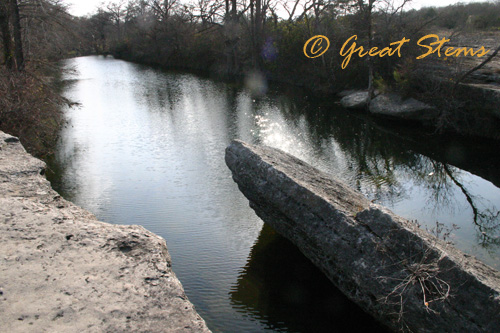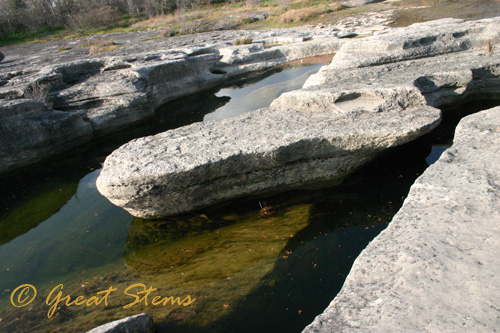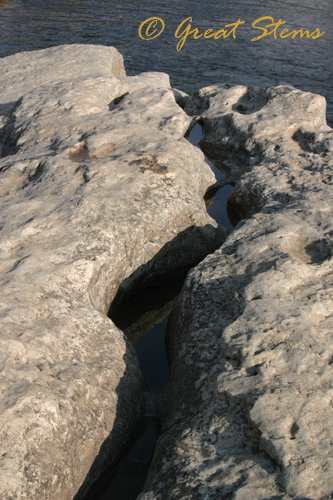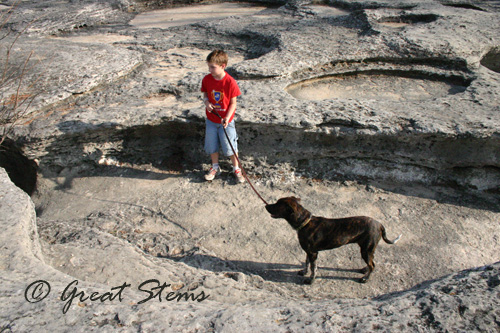 The Lower Falls look different from what I remember from years ago — presumably this is a combination of water erosion at work and current flow of the creek. To cross to the other side, where the old homestead is, one has to jump across a channel just large enough to be risky for an adult and way too dangerous for children to safely cross.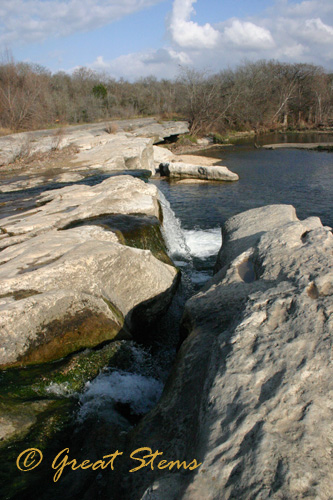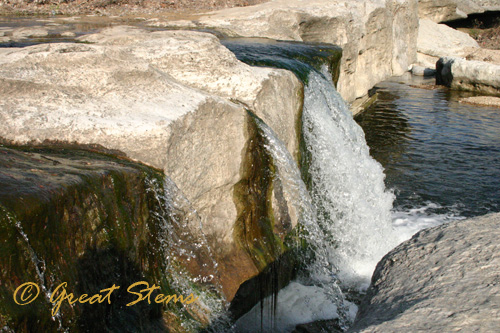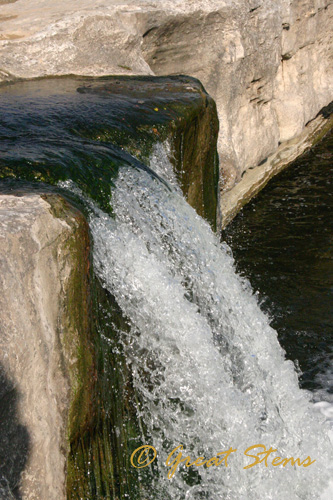 So we, the ever-adventuring gang, decided to take advantage of the fact that this was an ON swimming time for MFSP, and we crossed the creek higher up. Yep, in our tennis shoes. Well, except for me, who was clever enough to wear my Keens. Though the water was plenty shallow, the carved channels in the creek bed (the always-occurring water erosion still at work) were hidden by long strings of algae, so we still had to be careful in our endeavour.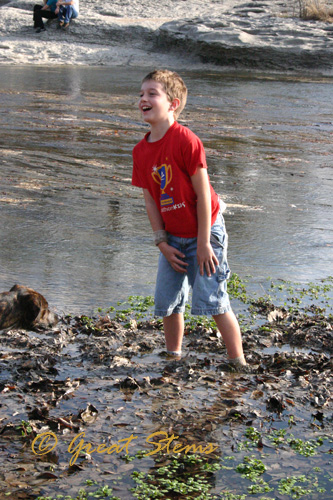 But we wanted to see the homestead and grist mill, and crossing the falls was simply too hazardous for my youngster. It would be nice to have a bridge built someday, one safe from the effects of flooding, if that's even possible.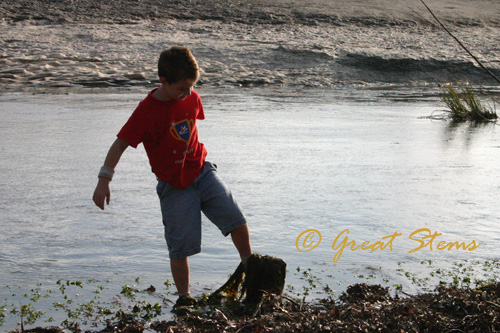 Yeah, I think the boys will be getting new shoes for when they go back to school.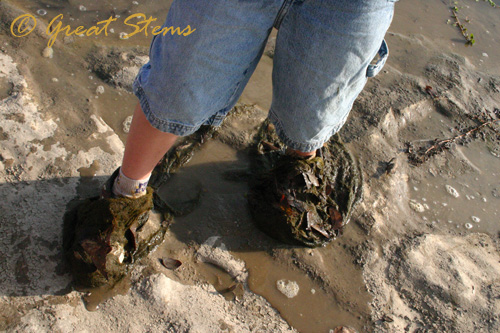 On the other side of the park, we could really envision the McKinney ranch of old. The McKinney homestead was built around 1850 and stayed relatively intact until a fire in 1943.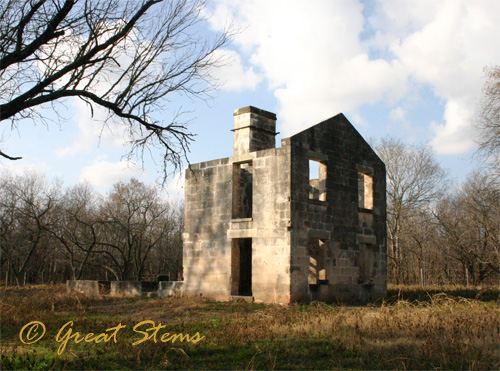 It's easy to picture horses pulling a wagon under the trees along this wide road.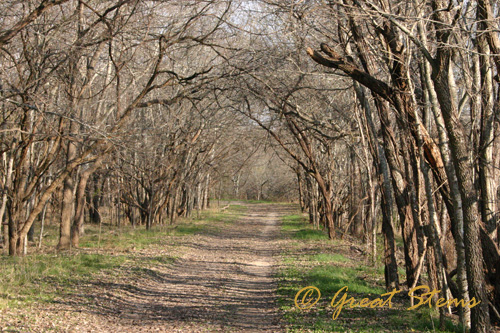 The trails were lined with yellow flowers and a variety of shrubs and grasses.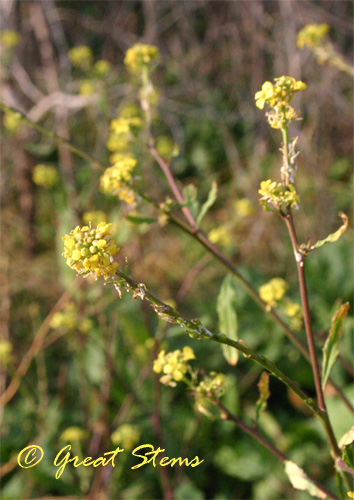 Little remains of the grist mill, once used to grind flour. It was destroyed by a flood in 1869.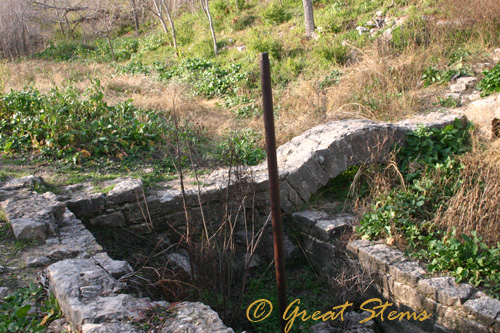 There are other remnants to be found along the Lower Falls trails, but we had to get home. So we followed the trail back to the creek for another adventure in crossing. We enjoyed a different view of the falls from the other side, but the muck we found in the creek was pretty much the same!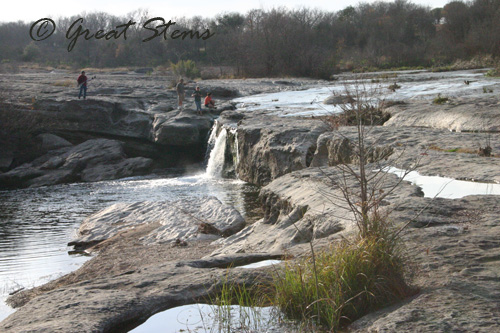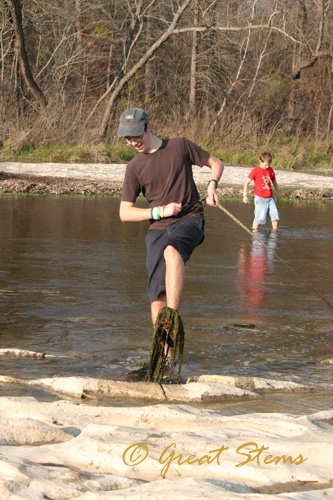 While waiting for the kids to cross, I snapped a close-up of our husky. He's a handsome brute, isn't he?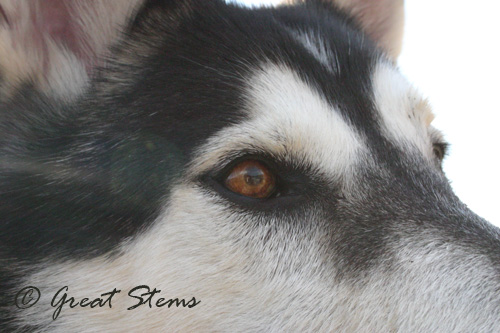 McKinney Falls is a lovely state park, but it's difficult to see all of it, especially the historical structures on the Lower Falls side, unless you are agile and have good balance, or are otherwise determined, and large enough to safely cross. Parents would have to carry their children across, or wade the way we had to. The Upper Falls trails are pleasant, though paved. In other words, it's a pleasant place to visit, but not a park for everyone.