Win one for the environment. Last night (technically 2am this morning), Austin City Council voted unanimously to ban single-use shopping bags at grocery stores. Bring your reusable bags when you come visit our fantastic city! The ban officially takes effect in March 2013. Austin is currently the largest city in Texas to ban single-use bags — way to go, Austin!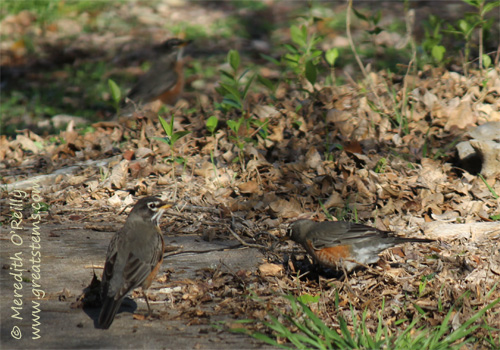 Even though it's not technically spring yet, it has felt like it almost all winter. These warmer temperatures have been rather confusing to wildlife, plants, and gardeners. But spring is definitely arriving now. This past week, a flock of some 50 American Robins landed all across our property. They were too spread out to get a big group picture, but I did manage to catch a trio in the front.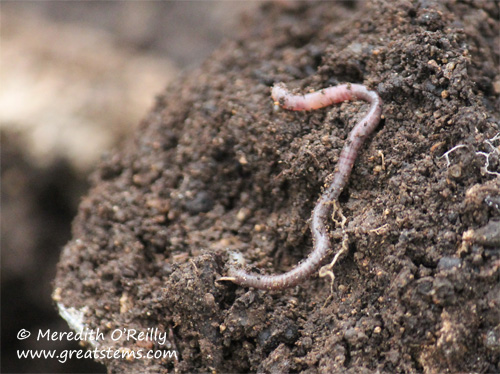 Perhaps they were early birds looking for worms — it was in fact an early morning when we saw them, and we do in fact have a lot of earthworms. Who knows?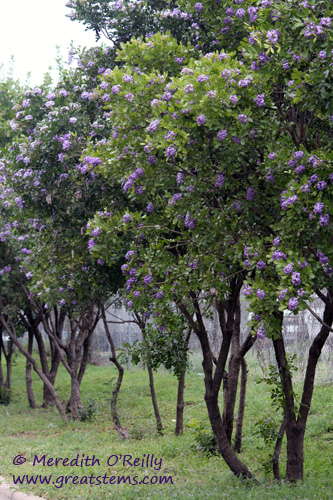 But perhaps the most noticeable spring sign in Austin is the mass blooming of our native Texas Mountain Laurels (Sophora secundiflora) all across the city. I've never seen so many blooming at once. They line and adorn highways, city properties, neighborhood entrances, gardens, parks, parking lots — they are simply everywhere.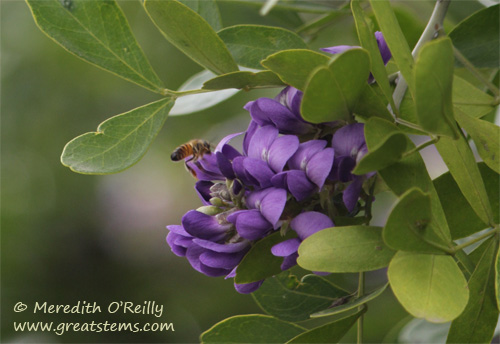 Texas Mountain Laurels are one of our early bloomers, and as such pollinators adore them. They are incredibly fragrant. A brief whiff of a single bloom can smell like Grape Koolaid to some, but in mass they are almost sickeningly sweet, like grape-flavored medicine. This is why you'll find two opposing reactions by people — some people love the scent, while others are actually nauseated by it. Most fascinating! I personally like it, but I tend to be that way about any unique characteristic of a plant. Remember, I like thorns, too (but of course, the Mountain Laurel doesn't have any — instead, it sports poisonous seeds and nauseatingly sweet fragrance — awesome!).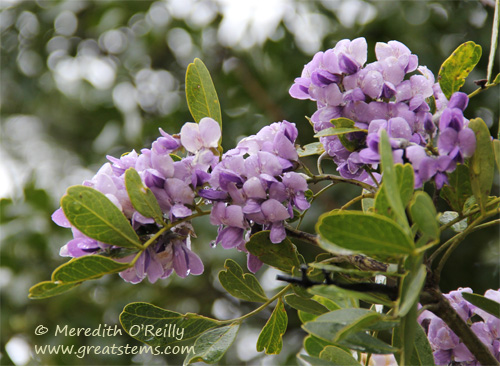 The Mountain Laurel above was still freshly wet from a recent rain when I snapped the shot at Austin Nature & Science Center.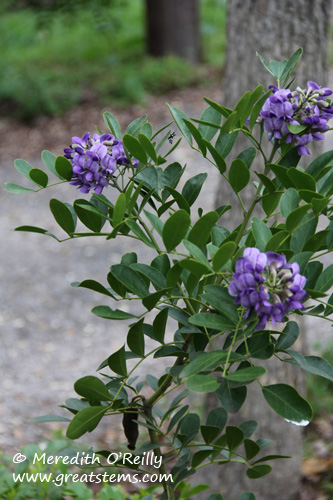 Even my little 3-foot tall Mountain Laurel joined in the purple celebration — it has 3 blooms!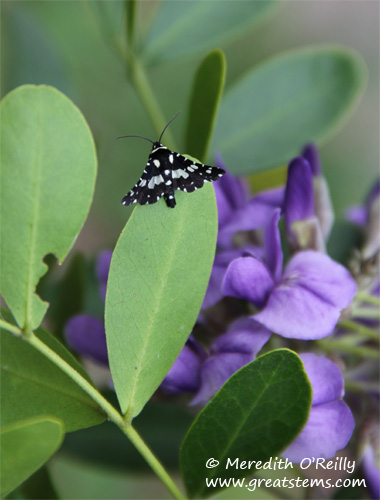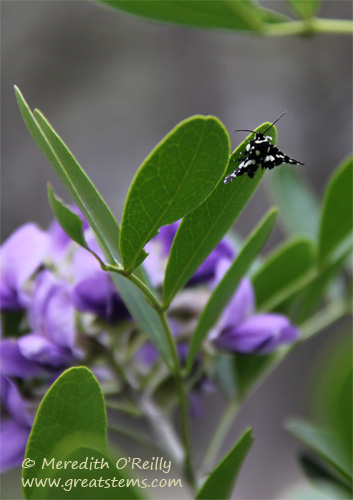 While I was out there admiring our happy little bloomer, I noticed this black-and-white Lepidopteran. I didn't have time to ID it, however, but I'm hoping to have a chance, you know, some day. It's a Mournful Thyris, Pseudothyris sepulchralis. I am in great debt to Alan of It's Not Work, It's Gardening! for IDing this little moth for me! FYI, caterpillar host plants for the Mournful Thyris include Clematis and grapes. Apparently good resting spots for the adult moth include Texas Mountain Laurel.
Gosh, spring is a busy time of year. Have a happy purple day!