This morning my dogs and I visited our favorite leash-free nature-plenty park for a bit of exercise. We enjoyed following the paths through a winter assortment of evergreens, bare-branched deciduous woody plants, and golden-to-brown spent grasses and herbaceous plants (granted, the dogs were far more interested in animal smells while I, on the other hand, forego those risky smells and instead admired the plants). But I pulled up short when I spotted this treasure among the winter scene, tiny yellow-green blooms looking like miniature fireworks among the brown branches. I knew immediately that Elbow Bush was announcing the imminent arrival of spring ahead.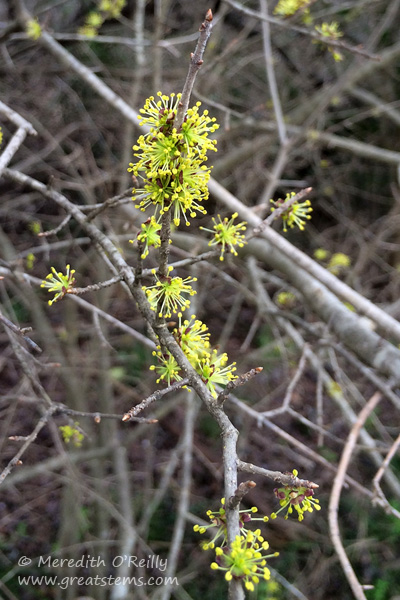 Elbow Bush, or Forestiera pubescens, is a deciduous Southwestern shrub that blooms much earlier in the year (Feb-Mar) than most other plants in the region. In fact, another of its nicknames is Spring Herald. Its blooms, which open before new leaves bud out, are important nectar sources for early-emerging butterflies and other pollinators. Later on, the female plants will produce dark-blue berries that are a favorite of wildlife.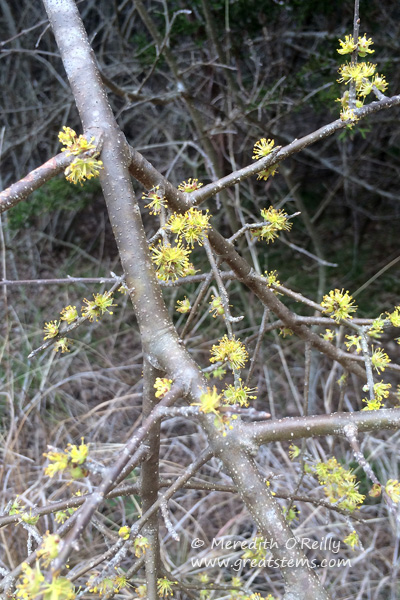 Yet another name for Forestiera pubescens is Stretchberry. But here in our area, I know this shrub best as Elbow Bush, a name earned because the plant typically branches at right angles. It has tremendous wildlife value and makes a great understory addition, but gardeners should note that it does have a thicket-forming habit. So perhaps it might serve a naturalistic landscape best.
It won't be long, and this plant like so many others will be covered in green foliage. Also spotted in bloom today — Mexican Plum, Agarita, and one wee little bloom on a Mountain Laurel (and all three were deliciously fragrant, too — I couldn't help but check). Spring cometh!