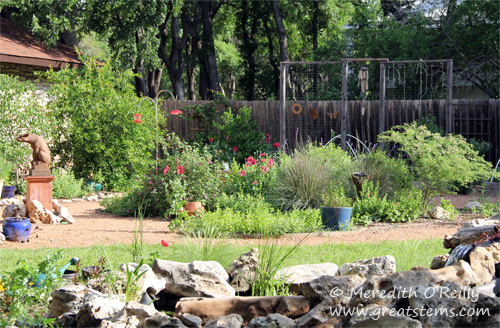 Now that I've finally finished my Florida wildlife posts, I get to have fun getting back to my roots, as it were — my garden here in Austin! The rains over the winter helped revitalize my garden tremendously, and while we are nowhere near out of the drought yet, I'm just happy as can be that I have what feels like a garden again. My garden did NOT look like this last year, as I am what is best described as a minimal waterer. I teach my plants to be survivors.
Normally I'd do a before/after later in the year as an anniversary post, but every time I walk outside I am just amazed at the transformation of my yard in a mere 3.5 years. So I'm going to show it off!
BEFORE: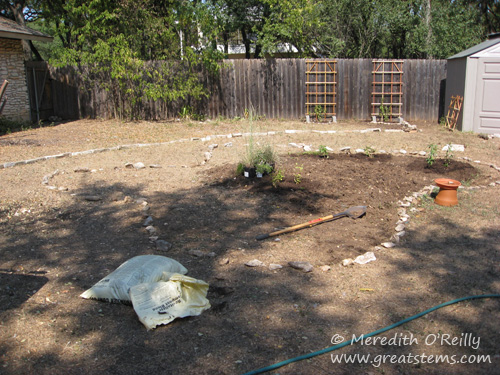 AFTER: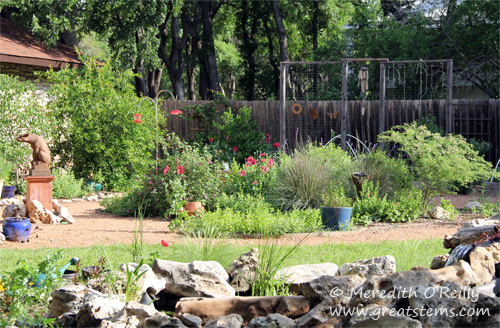 What a difference! That's a garden given only compost and occasionally liquid seaweed upon planting. It's more than 90 percent native Texas plants, and even though the poppies blooming aren't native, they give the garden such a nice touch of color.
Here's the hot-tub pond, BEFORE: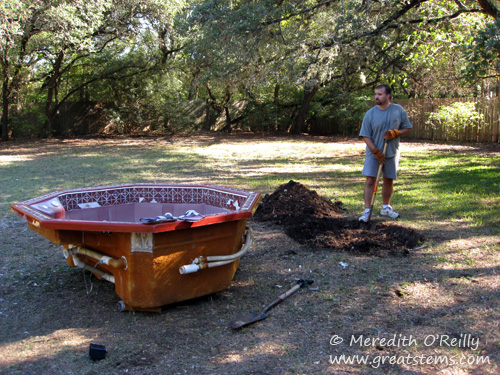 And AFTER: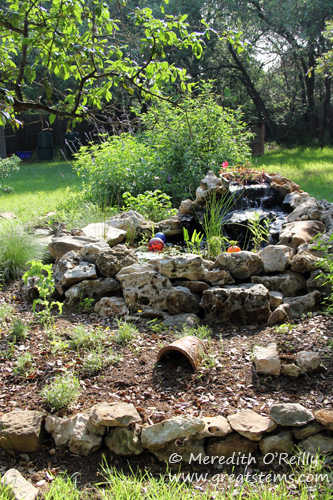 Last year we built the soil up around the pond to make a berm, and this year we've been creating a border around it and filling it in with plants. At some point I'll show you a different view of the pond area, as it's looking really nice (I just forgot to take the picture, and I'm impatient to show the changes).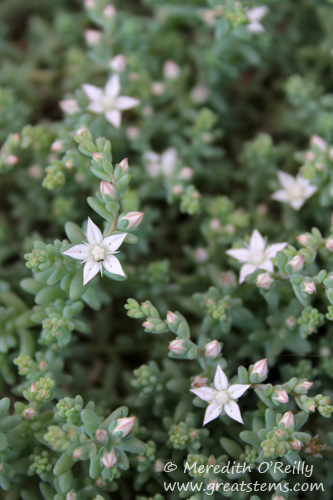 Stonecrop
Speaking of the pond, the bullfrog is back. Or maybe it's a new bullfrog. I heard it for the first time ever just tonight — the sound so confused me that I thought my pond pump was broken, until I realized that it was a frog's call. I think we've decided to name the bullfrog Jeremiah. Maybe the name is not so original, but it's a fun song to sing to the bullfrog while we are out there! I'm sad to say that Jeremiah hates me ever since I cleaned out the pond a couple of weeks ago. I think he thinks he's Alpha frog and I messed with his territory and his ego, or at least his sense of safety. I'd show you a picture of him except that now Jeremiah darts underwater anytime I'm within even 10 feet of the pond. Doesn't he realize that I cleaned the pond just for him? We seem to have plenty of fish, by the way. I blame Bob Pool (Draco Gardens) and his darn procreating goldfish.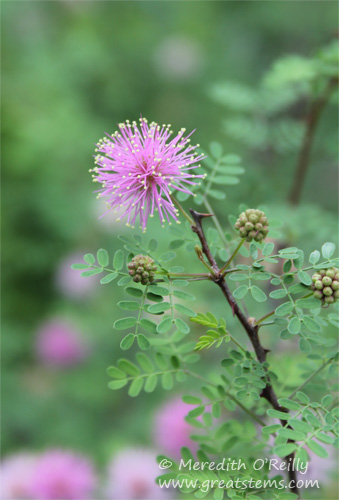 Fragrant Mimosa in bloom
The Wonderful Pomegranate is blooming at last, not that I remembered to take a picture. It's blooming one whopping bloom at a time, leaving the rest as buds that just tease me until it's the next one's turn to open. Now how is pollination going to happen like that? I want Pomegranates!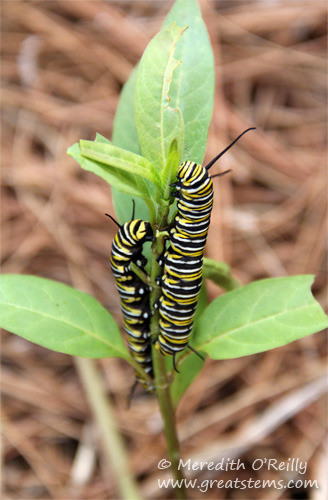 This year I have 37 milkweed plants (Tropical, as I still can't get Antelope Horns to establish). They have been eaten down to sticks by all the giant Monarch caterpillars. Now what? I don't want to have to buy even more milkweed! I guess it's a decent problem to have — I'm ecstatic to be supporting so many Monarchs.
It's getting hot, and I'm wishing it would rain again, but I'm just grateful as can be for what I've got. The butterflies are returning en masse, as are the caterpillars, and birds are singing glorious songs of happy, happy. My gardening goal for the year is simply to fill in the empty spaces in the beds we have and maintain only — other than that, we've got to focus on building a new shed. Forward progress!