This October I was very honored to be the 2014 recipient of the Native Plant Society of Texas' new Digital Media Award for my Great Stems blog. I'm so pleased that my blog has had an impact on those seeking to learn more about native Texas plants, gardening, conservation, and supporting wildlife, as well as connecting youth with nature.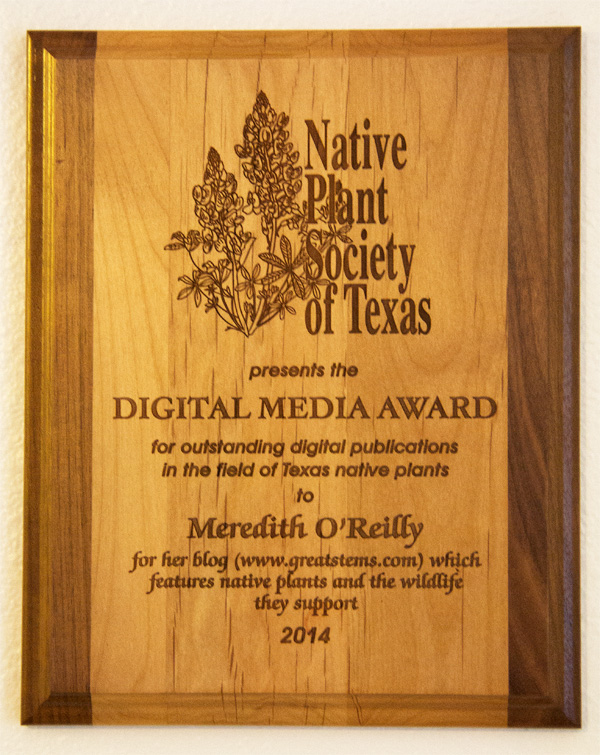 When I first started on my gardening journey several years ago, I also started Great Stems, partly to document my progress and partly to keep me committed to my gardening endeavors. Early on in my experiences, I began to focus on developing my yard into a wildlife habitat, and that's when I immersed myself into the world of native Texas plants, the foundation of our state's biodiversity. At the same time, Great Stems underwent a journey of its own. The more I learned, the more I shared, and in time I realized that many readers were using my blog as a resource to learn more about native Texas plants. Since then, my entries are written to hopefully inspire, educate, and encourage other gardeners to plant native plants for conservation and to support wildlife, while still keeping its original sense of journey and adventure. While my posts have slowed somewhat due to my job, my wildlife garden is still going strong, as is my commitment to educating adults and kids about the role of native plants in the ecosystem.
Thank you again, NPSOT. I truly am honored, and I am equally grateful to this wonderful organization and its members for all the support and educational resources that they offer, as well as all the countless hours of hard work they do for conservation and protection of our state's precious native plants and habitats.