Just when I thought I was starting to get caught up, time slipped away again. Take this post, for instance — I visited Hornsby Bend more than two weeks ago and am only just now getting to show the photos. And it's been driving me crazy to be so far behind — there are some really cool photos on my flash card right now, and I can't wait to post them!
One quick note — today was the Trowel & Error Garden Symposium benefitting Mayfield Park. I had a great time talking about native plants and wildlife, and I enjoyed seeing friends, meeting new ones, spreading native plant love, and getting to spend the day with gardening folks. What a wonderful day!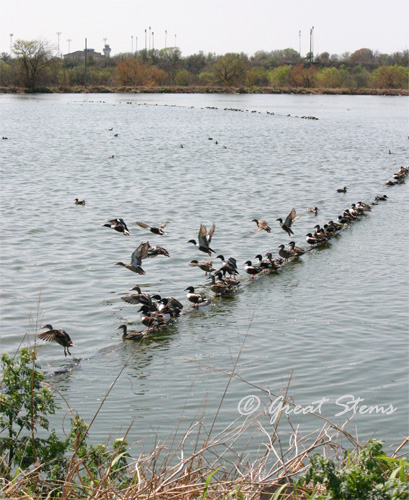 Not that these Northern Shovelers would have cared — they're too busy scooping food from the ponds at Hornsby Bend. Fellow Beautiful Wildlife Garden blogger Carole Brown and I visited Hornsby Bend during her recent trip to Austin, and we delighted in seeing numerous migratory birds, as well as getting our first glimpses of many different early spring wildlife. Of course, that was 2.5 weeks ago, so I'm sure the numbers have increased tremendously. For my previous visits to Hornsby Bend, check out this and this — oh, and this little weirdness.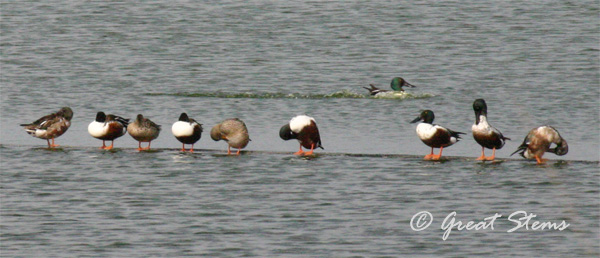 Northern Shovelers are dabbling ducks. which means that they primarily feed at the water's surface or by tipping upside-down to get food underwater. Their spoon-shaped bill allows them to strain and filter the water for food.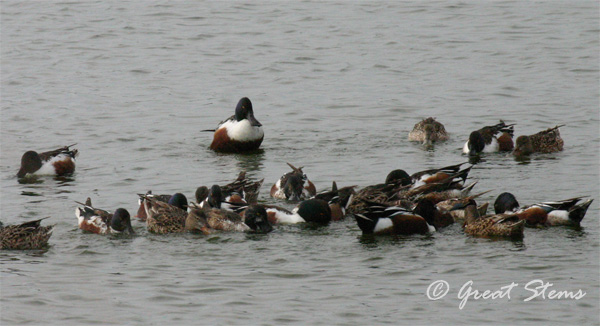 A curious behavior of the Shovelers is the way they will circle in a group to churn the water and bring food to the surface.
But they spent much time showing off their unique ability to walk on water… or at least stand on a hidden barrier in the water and look like they can walk on water.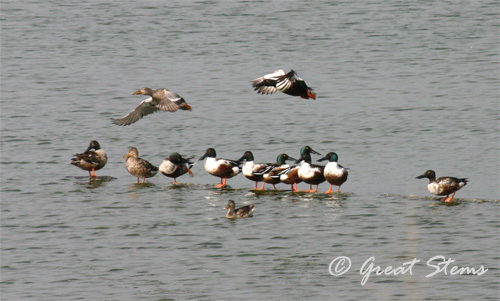 Clearly I enjoyed taking pictures of the Shovelers. How about for a change of pace, we look at pictures of… other ducks!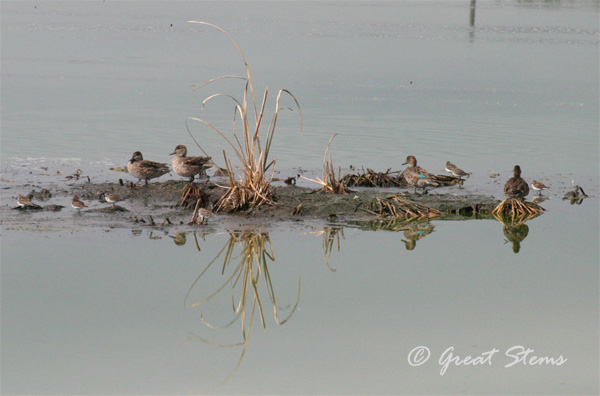 Take a look out on this island — see that blue on a duck's wing? That patch of blue earns this species the name "Blue-Winged Teal." Note the Least Sandpipers hanging out on the island, too.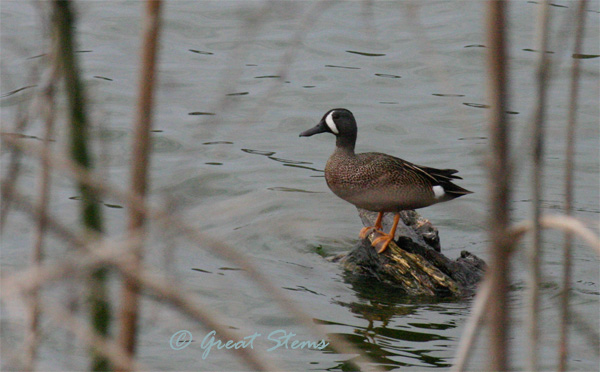 Ruddy Ducks, Cinnamon Teals, American Coots, Snipers — these are just a few of the other water birds we glimpsed during our visit. But that's not all — the Yellow-Rumped Warblers were too numerous to count, the swallows hid along the bank, Cardinals sang from the river pathway trees, and White-Eyed Vireos looked down upon us.
Not the least bit concerned by our presence, the Least Sandpipers stayed really busy gathering food along the wet shores. Well, at least I'm not resorting to bad jokes again… to say the least…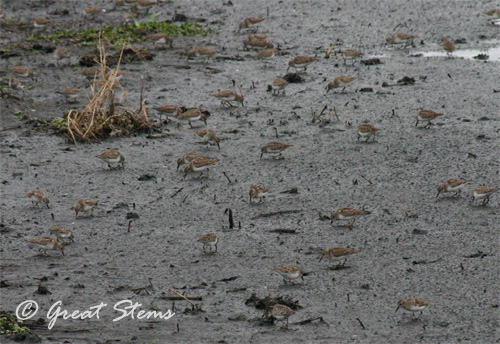 And Hornsby Bend is a haven for multiple sparrow species. We saw Savannah Sparrows, Chipping Sparrows, and many others. I'll just pretend that we didn't also see House Sparrows. They didn't earn a photo spot, at least. Oops, there's that word again. At least that time was an accident! (that last might be a different story, though).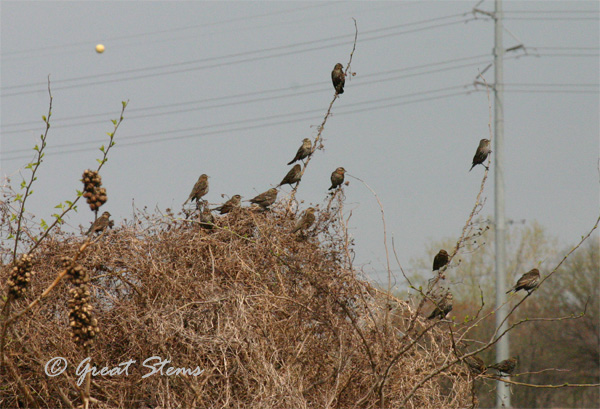 Here's a Savannah Sparrow, kind enough to pause for a close-up: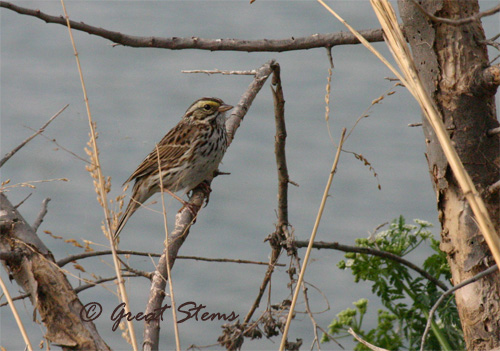 The most unusual bird of the day goes to a leucistic sparrow seen foraging between two of the Hornsby ponds. Quite unusual in nature, and an even bigger rarity for the average birdwatcher.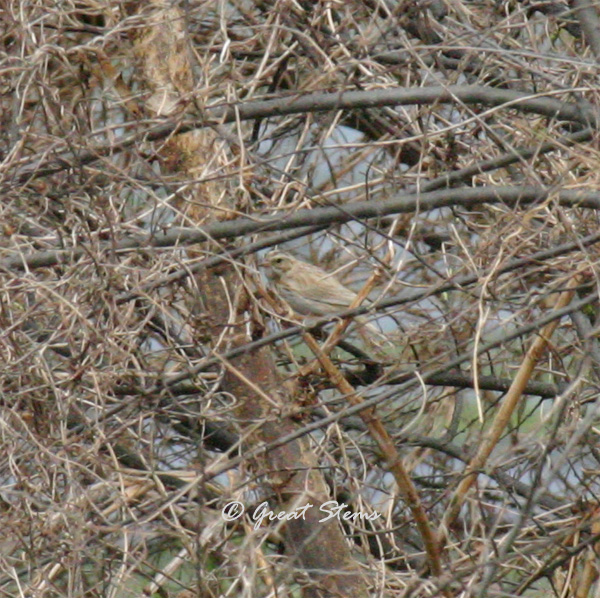 We followed this leucistic sparrow around for some time — I was determined to get a picture — as it was, I had to use a zoom from far away and really crop in to get a decent look at it. Oh, how I long for birding binoculars. But I feel lucky to have seen a leucistic sparrow at all, with or without gadgets. Then again, even luckier to have managed to catch semi-acceptable photos of said leucistic sparrow.
Other wildlife happily enjoyed the start of spring, Monarchs included. Here's a Black Swallowtail on Henbit: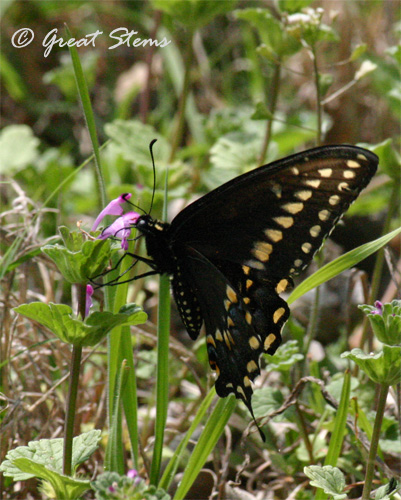 And a Pipevine Swallowtail, too: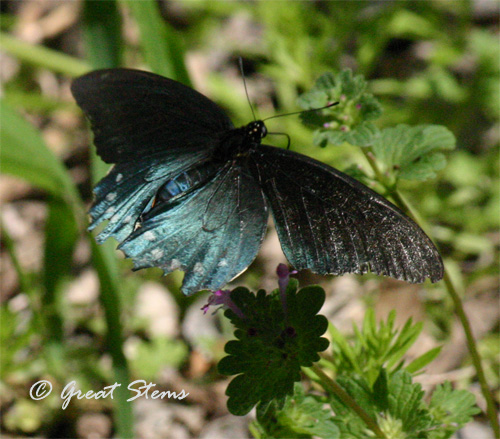 A White or Common Checkered Skipper took a rest on Velcro Plant. Hope it didn't get stuck to it…. Apparently you can only tell White and Common Checkered Skippers apart by dissection. Well, it was this skipper's lucky day. I wasn't going to go that far to ID it.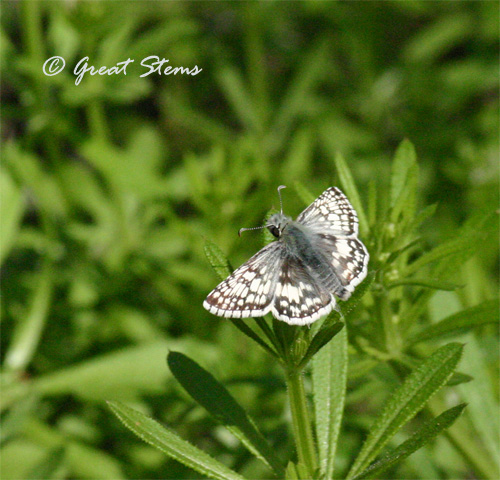 Check out this hard-working ant carrying a berry in the picture below. There's a lesson to be learned there.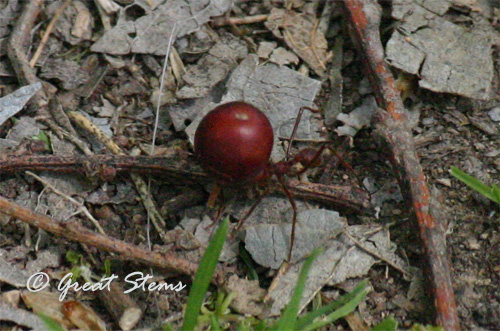 Allright, enough with the longer photodocumentaries — on to new things! Lizards, bird babies, and more, coming soooooooon!