I must have done something right if wildlife loves my pine cone treats so much that they steal them away in broad daylight. I'd covered the pine cones in a mixture of natural peanut butter, corn meal, cranberries, and quality seed (black oil sunflower, safflower, thistle, peanuts) — yummy energizing goodness that's rich in fat, protein, and carbs for birds trying to stay warm in the cold.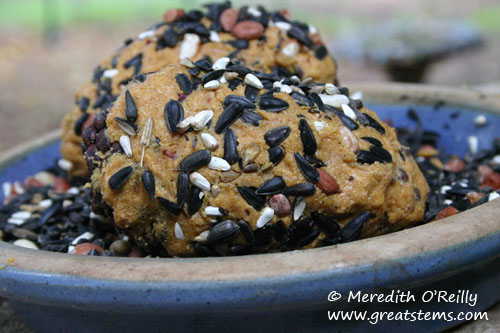 Normally, I'd have these pine cones hanging from a branch or hook, but the wire broke on both of them, and I got lazy and put them in a saucer outside my entryway window, it being a great spot to see our avian visitors. Maybe that's not being lazy — maybe it's just clever! Well, except that they're getting stolen by creatures that CLIMB, so I'll go so far as to say it's a good idea that needs a little tweaking.
Well, within a day, one peanut-butter delight was whisked away to some cozy little cubby hole. Some naughty squirrel has been having quite a feast, I dare say.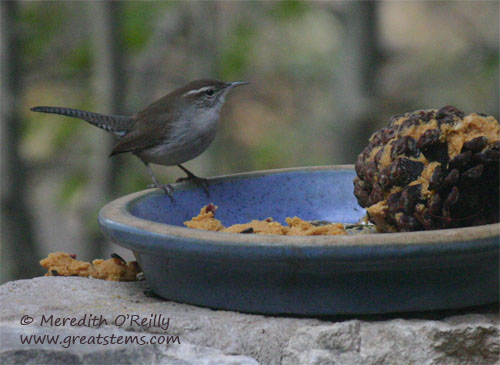 Bewick's Wren
I've been hovering around, keeping my eye on the remaining pine cone. Even so, on day two there was an attempt to steal said pine cone, but I found it below the gate. On day three, I thought the pine cone was lost for good, but I happened to spot it in the middle of the yard. At least now I have a clue as to which greedy squirrels it might be — they appear to be trying to take it toward the trees in the next yard, where they have a nest.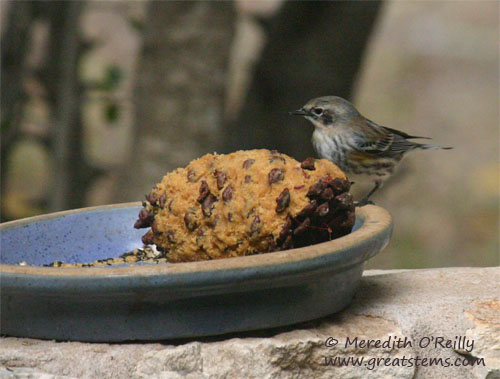 Yellow-Rumped Warbler
But I keep rescuing the pine cone and putting it back. In the meantime, I'm trying to find a source of more plain pine cones, but looking for them in the Christmas season is not the easiest of endeavors, I must say. I'm going to have to gather quite a collection of them next time I find myself in a pine forest.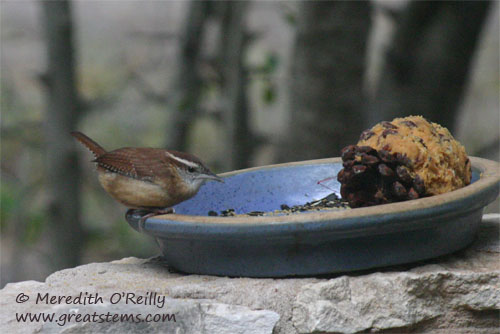 Carolina Wren
By the way, we have a new homemade feeder at the house, and I love it!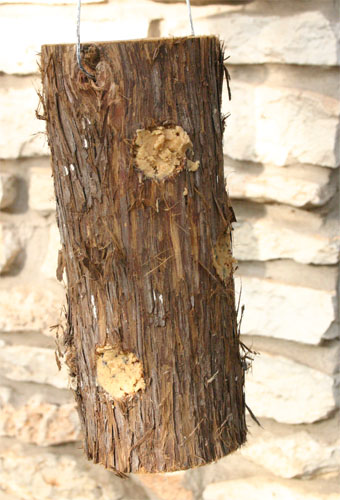 My husband made me this wonderful log peanut-butter feeder, using a 1 1/4″ spade bit and an electric drill. We filled the holes with Wild Birds Unlimited BugBerry Bark Butter that has tasty mealworms in it. I know there are birds visiting it, but so far I've only seen evidence of some food missing from the holes, and one glimpse of a bird taking flight as I approached the window. One day I'll have a picture of a bird enjoying the feeder! I suspect it will be most popular with woodpeckers and creepers.
I guess I best get out there and smear peanut butter on the birds' favorite perch from last year. I might not have pine cones left much longer!