The boys and I just returned from a truly fun-filled wildlife-a-plenty trip to Florida, and you'd think I'd jump right in and start showing you photos. But no — first I have to show off some of the gorgeous blooms that welcomed us home. But no again, because oh my gosh I found something cool in the backyard while wandering around looking at blossoms. This creature of such colossal awesomeness must be given absolute priority in wildlife garden blogging. And here it is.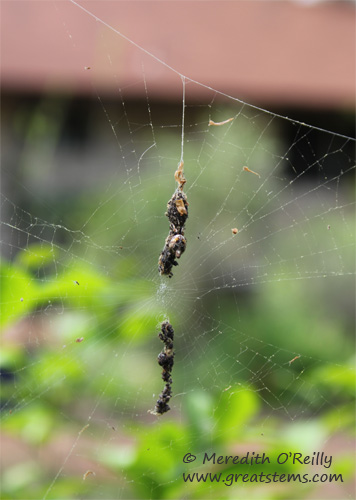 Yes, I can already hear your response. Something, I'm sure, along the lines of "What the blazes is THAT?" And perhaps there's a part of you also saying, "Geez, Meredith is so very weird." But,my friends, I must introduce you to this amazing creature — it is known as a trashline orbweaver spider. Can you find the spider?
Take another look: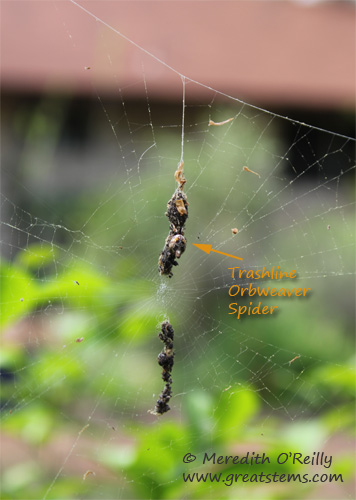 Lo and behold, a spider I only learned about just last Saturday is right here in our backyard!
A trashline orbweaver spider has a very unique way of camouflaging itself. It creates a line of insect remains and other debris stuck together with silk. Then it sits right in the center and blends in, making it hard for birds to notice it and also staying well hidden from unsuspecting but potentially tasty insect passersby.
It was incredibly windy outside, so it was near impossible to get a sharp image of a bobbing spider on a bobbing spider web, but here's a zoom-in on the spider.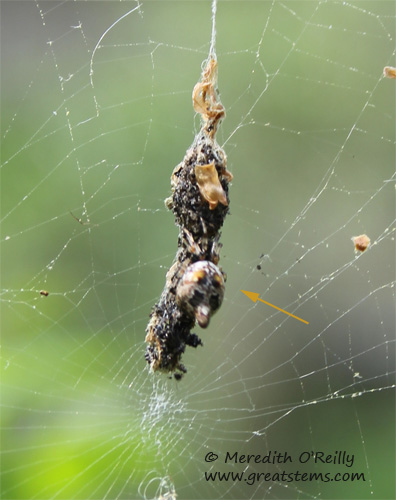 After such a treasure of a find, does it really matter that my Crossvines are producing the most spectacular display of color ever?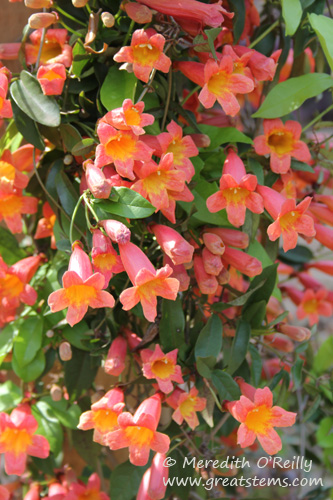 They are climbing up and over the shade sails, as they please.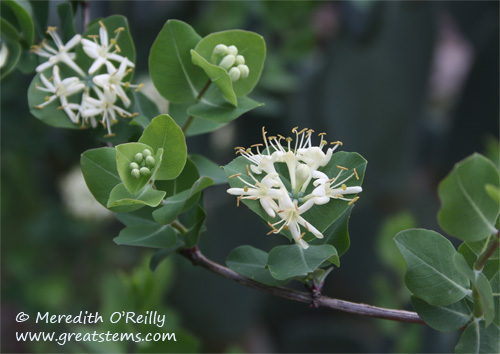 Does it really matter that the Texas native White Honeysuckle shrub, Lonicera albiflora, is covered in divinely fragrant blossoms?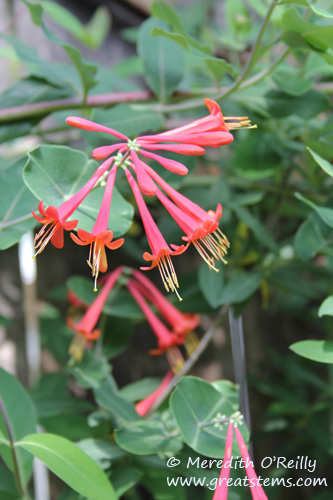 Or that its cousin, the native Coral Honeysuckle, is perhaps at last displaying its full glory, climbing thickly to the top of the fence with its intense red blooms ever so vibrant against the dense green foliage?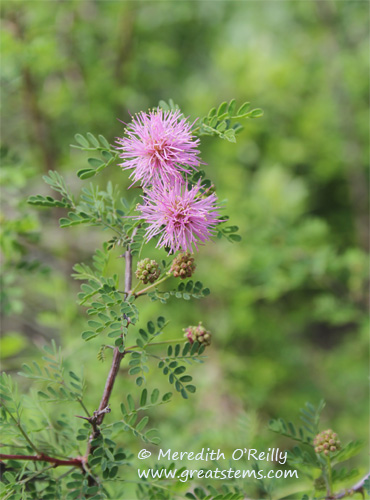 Would one notice the pink and puffy blossoms of the Fragrant Mimosa?
And look at this: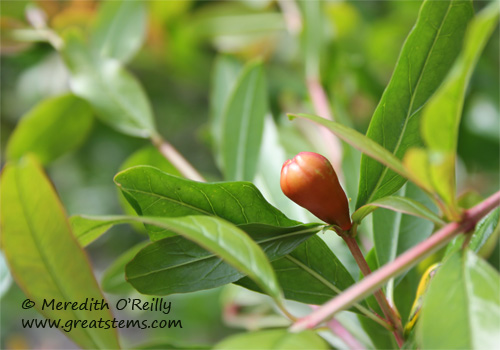 A single Pomegranate bud waiting to open. Let's hope that more buds will emerge very soon, else I won't have much hope of Pomegranates this fall.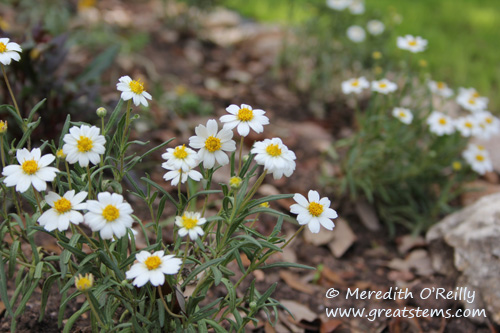 What about the Blackfoot Daisies, twice as big as when I planted them before our trip?
Yes, of course — they all matter!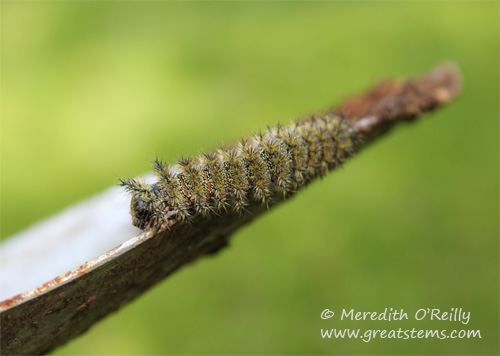 Even this Buckmoth caterpillar, which thankfully I didn't step on with my bare foot (I can still remember the painful sting from the caterpillar that found my foot last year), is a welcome sight in my yard. Though the caterpillar might be a stinging kind, it (or its flying adult form) is a potential food source for birds or bats or owls. Therefore, it matters, too!