Among the trees of our backyard, a giant Chile Pequin shrub faithfully continues to provide blooms for little pollinators and ripening peppers for the birds. But it also provides something else — potential food sources for beneficial garden predators, in this case crab spiders.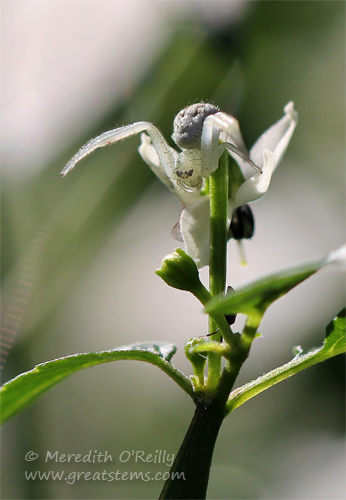 These little 8-eyed wonders do not spin webs like orbweavers do but instead are ambush hunters. They position themselves carefully on a flower then wait with the utmost patience for an unsuspecting bee or fly to land.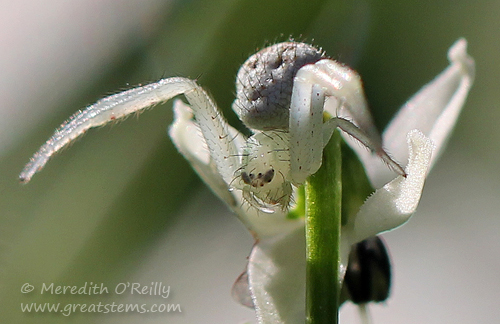 Typically they keep their longer front legs outstretched, ready to snap closed if their prey comes near. Those front legs are one reason these arachnids are commonly called crab spiders, but another is that the little spiders can scuttle backwards and sideways in the manner of a crab.
While this white crab spider (genus Mecaphesa) waited on the back of the flower, a little fly landed for some nectar, completely unaware of the danger it was in.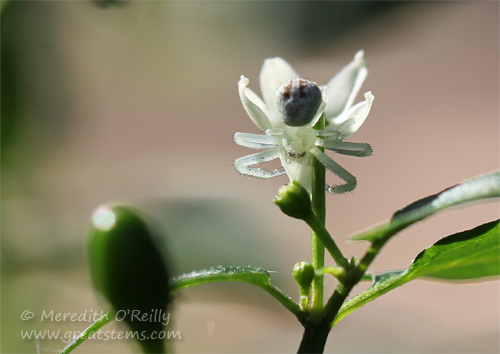 But I questioned the spider's position on the back of the flower, thinking a more frontal position would be more strategic, until I saw the spider close its strong front legs in a flash. The fly did get away, but I consider it lucky.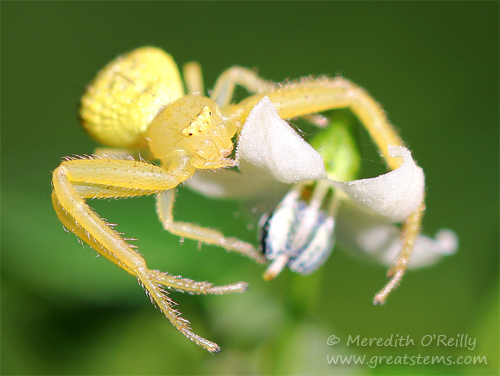 A few branches over on the same shrub, a yellow crab spider (also Mecaphesa genus) lurked on its own flower. Some crab spiders have the ability to change colors over a period of several days, either secreting or excreting yellow pigment to help it match the flower it is on. This spider would do well to change its color, or it should move over to a nearby Goldenrod flower, where it would blend in superbly.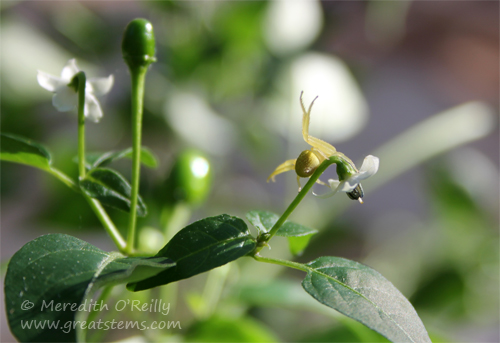 But I guess it's content where it is for now. The Chile Pequin's flowers are quite busy with pollinators, so I imagine the crab spiders are getting plenty to eat. Good luck, little spiders!
Edit: Thanks to Spider Joe for helping identifying these two spiders as Mecaphesa genus. Reading a little more, I see that two identification factors have to do with the size and position of the eyes and the hairiness of the spiders. Also, per Joe on Mecaphesa spiders, "Some of them can also turn red. They can also have not only changes in their overall color but major changes in the patterns of color on them, though those major changes typically occur at molt."  I so love to learn something new! Thanks, Joe!