Ohhhhhh, I'm a zombie. Two days of hard physical labor, and one mortared limestone-block retaining wall later, my friend Richard and I hobbled to our respective homes, sore and broken. We built the wall, along with my husband's help on Sunday, in preparation for the pending arrival of a 5,000-gallon rain tank at my son's school. We also built and mortared two benches for the school's butterfly-hummingbird garden. The results are wonderful, but we're paying the price physically.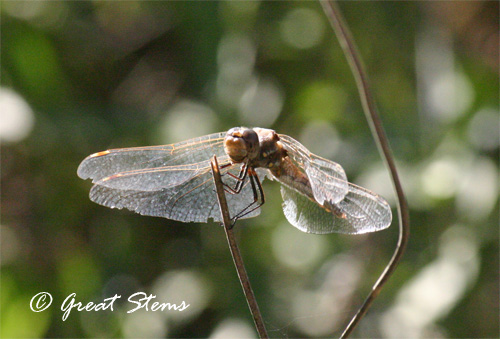 Today is the first day I've been able to think and move again. It seems like ages since I visited my own garden, camera in hand. But this morning I ventured out, and I was pleased to see a friendly face.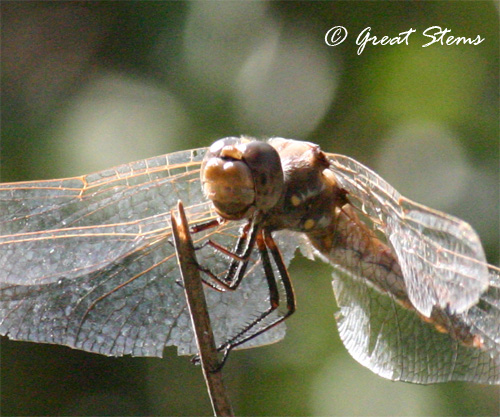 This little dragonfly smiled at me while it rested on the spent blooms of a Mexican sage. I can't tell you what kind of dragonfly it is, other than a very sweet little flyer that warmed my heart as it warmed its wings.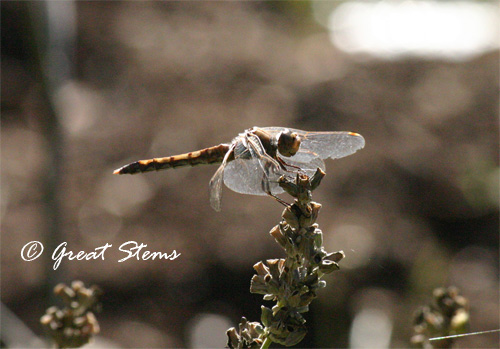 Thanks for the smile, little dragonfly. I sure needed it!
Elsewhere in the garden, the frogs were busy doing happy frog things in the pond, and though I'm seeing fewer butterflies as fall progress, I was still happy to see fluttering skippers, fritillaries, Queens, and Monarchs this morning. I even found a large Giant Swallowtail caterpillar on my hop tree, about to go to chrysalis stage.
And this little guy — one of many all over my garden, the school garden, and Austin gardens everywhere — munched away on an Esperanza.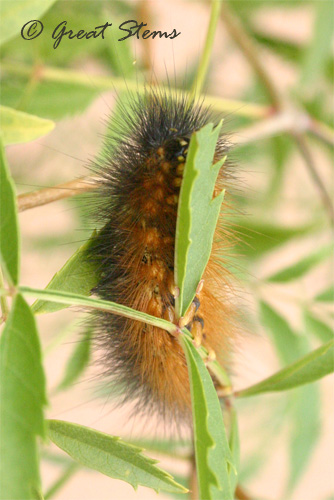 This one is likely a Salt Marsh caterpillar, a type of Arctiid and as such commonly referred to as a Woolly Bear. I remember as a child seeing some of these caterpillars by the hundreds when I lived in Corpus Christi, and I remember as well that we kids looked out for one another, teaching our friends that you shouldn't ever touch fuzzy caterpillars. In this particular caterpillar, the hairs have been known to irritate skin, even causing a rash.
I don't see a smile on this caterpillar's face, but it still gave me a warm and fuzzy greeting, all the same. 🙂
Nice to be back in the garden! 🙂