Once again, nature has brought me a gift — one of my favorite vines, and one that I've only ever seen in the wild. So I guess it's fitting that I found it in the wild portion of my yard. Thank you, wind or mammal, whichever of you that brought this seed to my garden!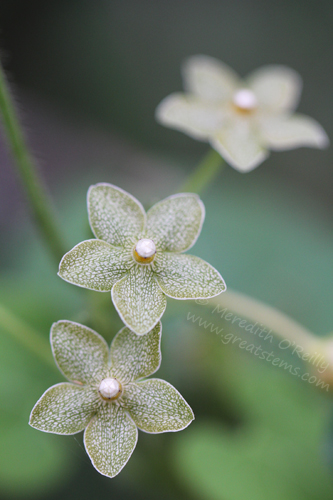 This lovely plant is called Green Milkweed Vine (Matelea reticulata) by some, but I prefer to call it by its other common name, Pearl Milkweed Vine. That shiny little center spot looks too much like a pearl to not include it in the name.
The vine will, in fact, ooze a milky sap if a leaf is broken off. If you are wondering whether it is a Monarch/Queen host plant, given that it is a Milkweed, some online sources indicate that it is indeed one, albeit a minor food source for them, perhaps. Personally, I haven't yet seen a caterpillar on it.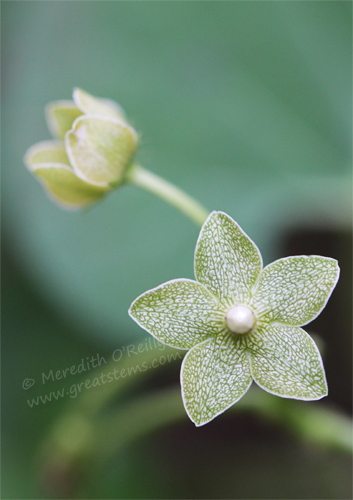 This vine is more dainty than bold, and it's easy to pass right by it when walking in the woods. But once you catch a glimpse of its shiny little pearls, it's mesmerizing. Mine is currently twined around a bunch grass — and annoyingly, some hackberry sprouts — but it's growing well. I haven't actually found the base of the vine yet — I'm so protective of it that I barely want to mess with the tangle.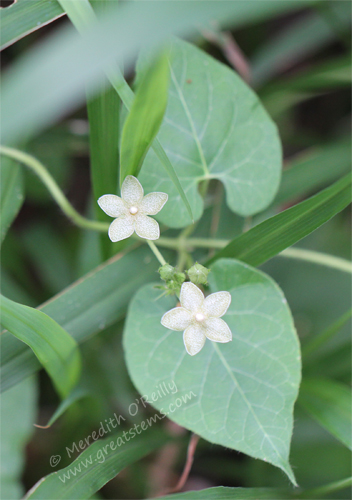 The leaves of the Pearl Milkweed Vine are heart-shaped, and when it's time to go to seed, this dainty vine will actually produce a whopper of a seed pod, much like its Milkweed cousins. Inside will be many seeds with silky fibers to aid in dispersal. I can't wait!