A couple of months ago, my son and I had great fun making Pokeweed Ink from the pretty but toxic Pokeweed plant. We made the ink and let it ferment in a dark cabinet and then promptly forgot about it.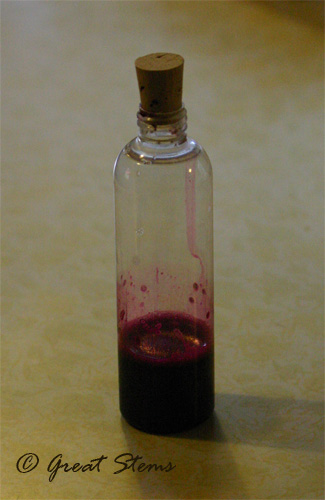 But making the ink proved to be fortuitous, as recently my son was given a Social Studies research project at school — of all the colonies, he ended up with Pennsylvania, the state in which both the Declaration of Independence and the Constitution were written. The rumors around the Internet were that these documents were written in Pokeweed Ink. (Edit: These proved to be inaccurate, however — thanks to Dana R., we know from the National Archives that iron gall ink was actually used. Iron gall ink was the ink of choice for many, many centuries — I'm going to have to experiment again!)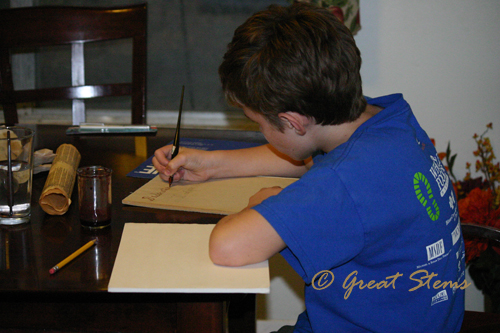 My son's been working hard on his report and presentation on the Pennsylvania colony, and we remembered that we had that bottle of pokeweed ink, which luckily was still in good shape — apparently it fermented well (in fact, it smelled like either really old grape juice or very, very cheap wine). Whether a historically accurate ink or not, he could use it to create a document of his own.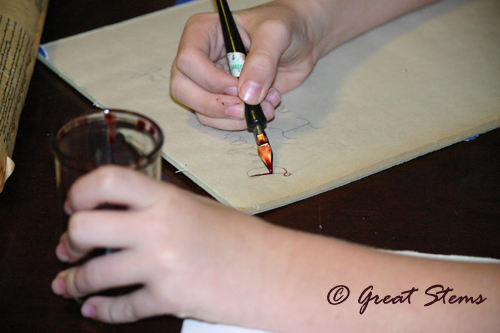 So today we had fun practicing calligraphy with both modern pens and with pen nibs dipped in the pokeweed ink. It's a lot harder than it looks, using a nib dipped in ink — a modern calligraphy pen is so much easier, alas. But it's not as cool as using ink the old-fashioned way! However, for this particular project, we realized that doing any fancy writing wasn't really going to work, so my son stuck with cursive writing.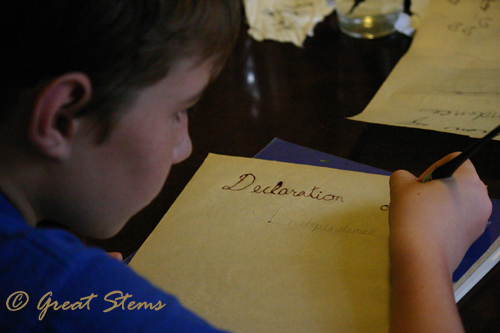 My son prepared a sample Declaration for his presentation. He also took the bottle of ink with him to school. Science, history, art, fun!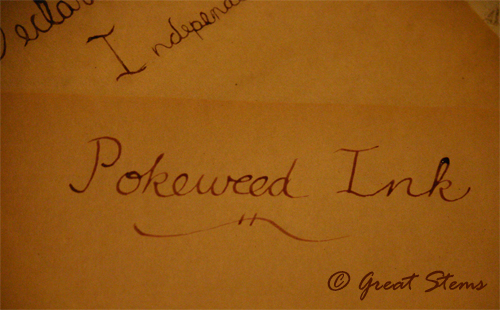 What's pretty neat, too, is that as the ink dries, the color darkens from the reddish look in the "Pokeweed Ink" text above to the darker in shown in the writing in the corner. Nifty, nifty!