The boys and I are back from Arkansas — we had such a great time. One of the highlights on our trip was testing our nerve and strength of will in the canopy of the Ozark forests — a high-wire adventure in the trees at Loco Ropes.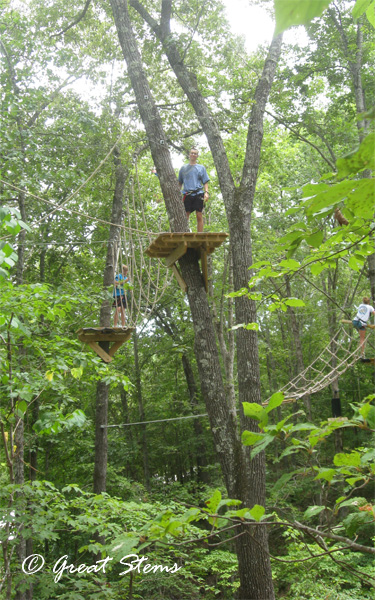 There are three courses (you can do just Line 1, or sign up for all 3). Each course has around 10 rope challenges, all different, but every one of them 3-6 stories off the ground. You might have to balance and walk on a tight-rope, step carefully along swinging logs, traverse wobbly rope bridges, or maneuver in, out, over, or through ropes placed in such a way to test your bravery or flexibility. The biggest test of will for me was a leap-of-faith drop from a high platform, with the cable zip not engaging until you've fallen a few feet. I think I sat there for 2-3 minutes trying to silence my brain into nothingness in order to get my body to sneak off the platform before my brain stopped me again.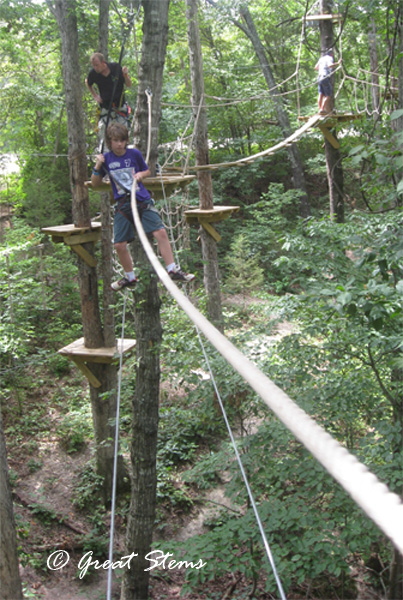 My sons had a blast, completing all three courses with ease. I did Lines 1 and 2 and was perfectly content to skip out on the third — hey, I'd already proven myself! (The picture above I took while up in the trees doing Line 1 — the others are of the boys doing Line 3).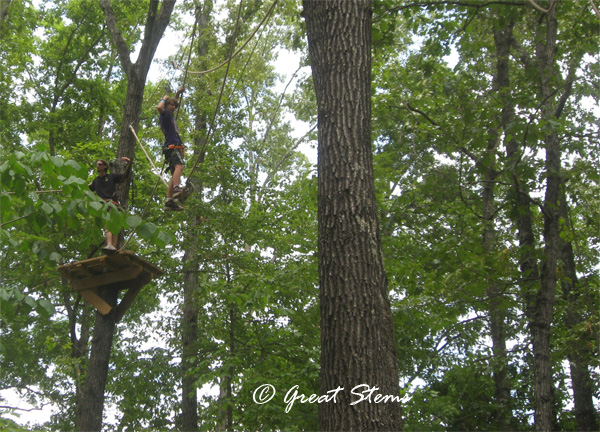 Was it Loco? Yes! But absolutely fun, challenging, scary, rewarding, and memorable, too. The boys are eager to go back, and so we will one day.