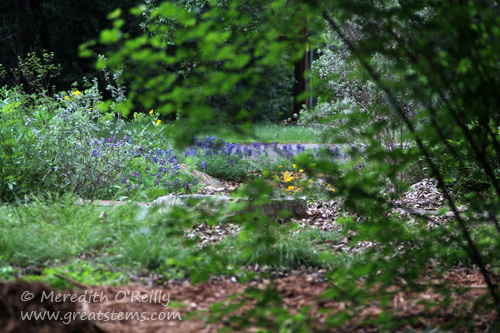 Our front yard has been a bane of my gardening existence for a while, primarily because of two trees and a lack of desire to put down a chunk of money necessary to achieve the vision we have for said yard. The two trees are fully mature Arizona Ashes that provide extensive shade for our yard. We expect them to start dropping limbs any year now, but still they live on. However, we want to put in a walkway and retaining wall along the front of the house, but to do so means slicing through major roots of those trees, which would speed up the process of their demise before we're ready (certainly before they are). So we've held off on that big project. It's why the front hasn't been as much of a focus for us as has been the backyard.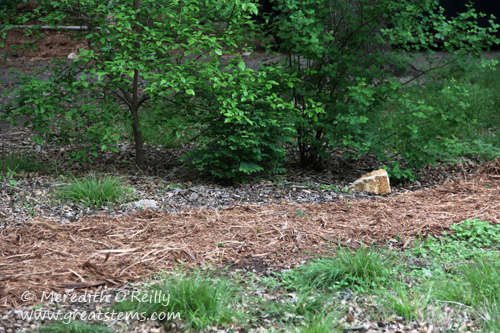 But we've been doing some front-yard work just the same. We've planted trees (Anacua, Texas Ash, and Escarpment Black Cherry) that will one day take the place of the Ash trees and provide their own shade to the yard and house. We also turned an ugly trench into a lovely dry creek bed with a flat bridge. You'll see current photos of that former trench in some of the images that follow.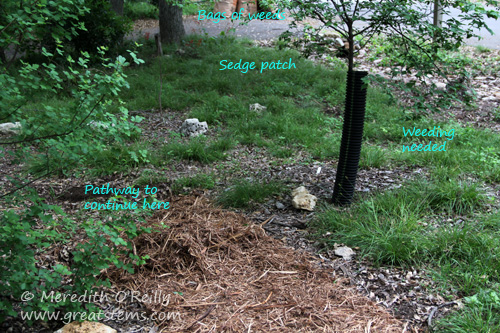 Additionally, for a couple of years now, we've been nurturing a natural growth of Cedar Sedge in a portion of our yard, knowing that we wanted to see it spread across the yard in lieu of turf grass. In the back of the image above, you can see the patch of sedge we've been taking care of, as well as scattered clumps as new sedge fills in empty spots.
The Cedar Sedge has been enjoying its coveted status and has obliged us by reseeding itself nicely across half of the yard. Now it's time to give it a helping hand and shape the yard a little.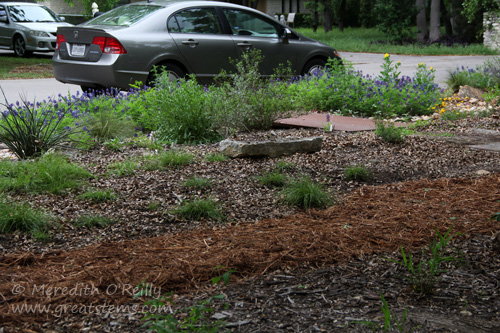 With that, we're providing some mulched pathways, transplanting sedge clumps from some areas to others, and giving the sedge a major push for its takeover of the other half of the yard. The above image shows some of the sedge clumps we moved from the new pathway to the freshly-bare, weed-free areas. On the other side of the path are Inland Sea Oats and other shade-loving plants.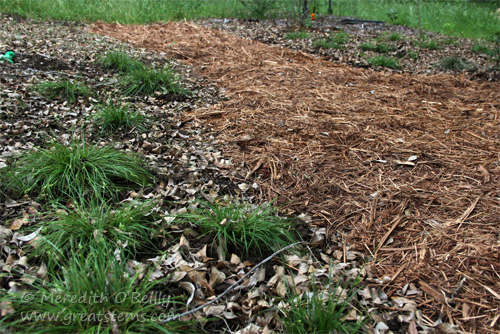 A mulched pathway isn't really my first choice for the front yard, but it's what we can afford right now and it will handily deal with the weeds. Actually it looks lovely under the trees, and we might line it with rocks as we collect them. We dug out all the weeds by hand, then lay down cardboard before putting down the mulch. Once we dig out the remaining weeds, the pathway will continue and curve around to make a complete half-loop along the front of the house.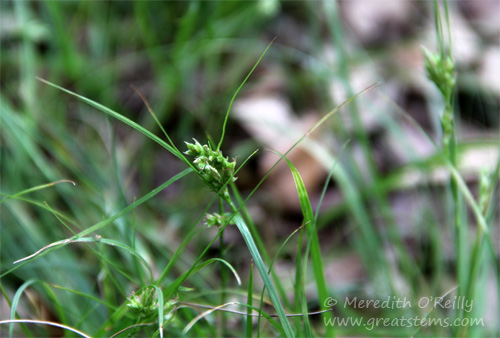 What I love about Cedar Sedge is its gentle presence. It's easy to move about, it spreads without being obnoxious, it only needs a bit of water now and then in the heat of the summer, and it's easy to remove for creating beds or planting new perennials. It's not trying to take over the world — it just wants to be subtle, pretty, and set a zen-like mood. I'm so glad I realized the sedge was there in the yard. Once I stopped mowing it over, it had a chance to shine.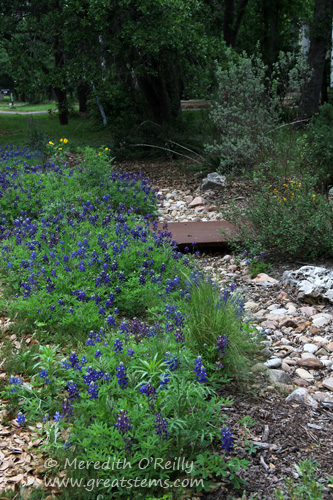 The plants along the dry creek bed are quite happy, without a doubt the bluebonnets most of all. What a beautiful mass of bluebonnets — seed pods are already forming.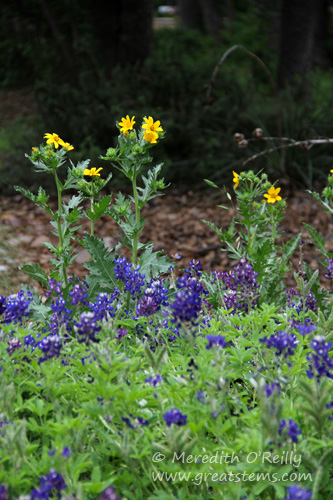 Other perennials and wildflowers are in bloom, providing lovely contrast to the blue of our state flower.
I'm quite thrilled to see long-desired improvements to our front yard, especially ones that will take away any need to mow the front yard ever again. We've got a small area left to weed, and then no more mowing (at least in the front)! YAY. Still can't do the retaining wall, but we can wait — shade is more important in Texas.