Ah, Horseherb (Calyptocarpus vialis), also called Straggler Daisy. There doesn't seem to be much of a gray area on this one. People either truly love this little groundcover or hate it with a passion. I'm of the former variety. I adore this little plant.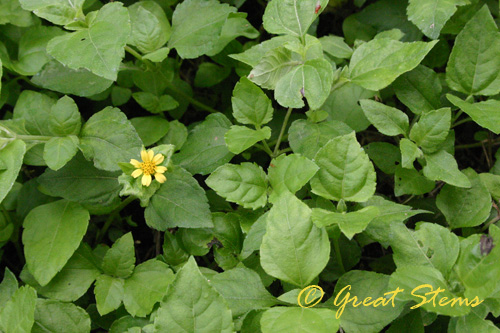 Why do I love it? If you've ever walked past a field of horseherb, you are presented with an incredibly lush sea of green, with the daintiest of little yellow flowers throughout to catch your eye. I've seen some gorgeous fields, and each time I was mesmerized by the beauty and serenity of the scene.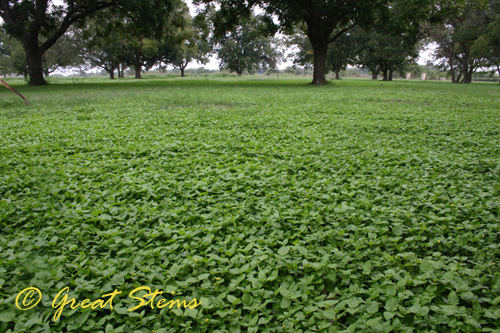 Field of horseherb at Hornsby Bend
I almost don't want to walk on it — it's so pretty in appearance — but for a non-lawn groundcover, it can withstand some foot traffic. It only needs water in the worst of droughts, and it loves shade and sun.
Horseherb is also native to the southern U.S. on into Central America, and it makes a great alternative to the exotic and water-hogging Bermuda and St. Augustine grasses. I'd love to see it replace Asian jasmine, as well — now THAT is a plant that will take over a garden bed and yard. Horseherb is considered semi-evergreen, blooming most of the year except in cold winter areas, and if you like you can mow it, or you can let it grow to its typical max height, which is about 8 inches. But as bonus, horseherb also attracts small butterflies, including sulfurs and skippers. And think of all the happy little lizards that will zip underneath the foliage!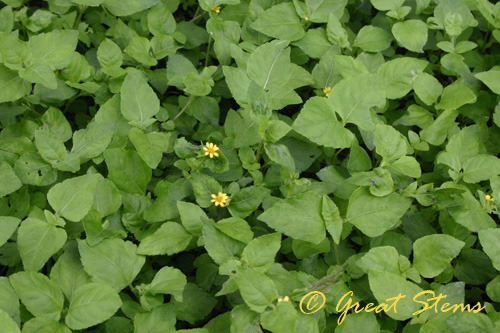 It's an eco-friendly solution to having a lawn without having to resort to heavy chemicals or fertilizers or ridiculous amounts of water to sustain it. Lawn irrigation tops the list on where our municipal water goes, and the time for water conservation is now, especially in Texas.
Why do some people want to leave it? Well, in some yards it can be a big nuisance. For those who keep a grass lawn, horseherb is a competitor, and it can be difficult to get rid of. And it can spread into garden beds, though I've found that so far it doesn't bother much with my well-mulched beds. In fact, one of the characteristics of this plant is that it supposedly doesn't do well in areas that have heavy leaves that take a long time to decompose. It spreads by both seeds and runners, which means that if the goal is to remove all of it, you're going to have a challenge. In a wildflower field, I have to imagine that it would be another competitor, but it's going to depend on the goals you have for your yard or area.
But for now I prefer to embrace its desire to spread. What I loathe is the Bermuda Grass and St. Augustine in my yard. I loathe the unnamed weeds that dominate my backyard. I love my buffalograss in the back, but it too is losing to the weeds, and in the drought, the buffalograss was dead most of the time, so I didn't end up loving it as much as I wanted to – I loved it when I could see it.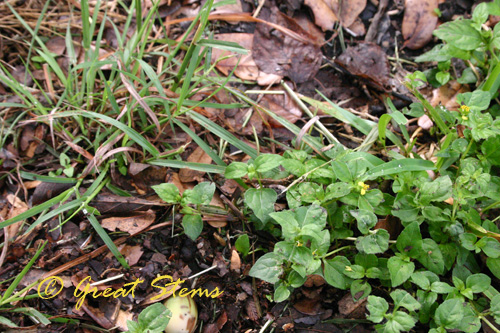 What would you choose: spotty grass or spreading horseherb? 
Will I regret it? Some gardeners are going to shout out an absolute yes to that question. But I do regret having Bermuda and St. Augustine (not that I planted it; that was the previous owners), so it's not a big deal to switch from frustration with the grasses to frustration with another groundcover, unless I've got all three to deal with at the same time. At least horseherb is native. But I'm going for the complete wildscape, and I have a lot of ground to fill and a lot of grass to get rid of. In those bed areas I want to keep maintained, I'll do my best to keep horseherb in check. And love it everywhere else!
So how about you? Do you prefer to love it or leave it?