I'm so pleased — the hummingbird feeders have been getting a lot of birdie traffic!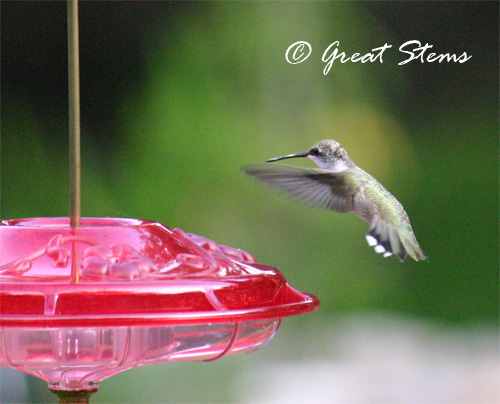 Do you see the pollen on the little hummingbird's beak above? Someone has been visiting flowers! Hurray for our flying, humming pollinators.
I've tried again and again to get a good picture of a hummingbird visiting one of our blooms — usually they come out blurry because the birds dart off so fast. And then this morning…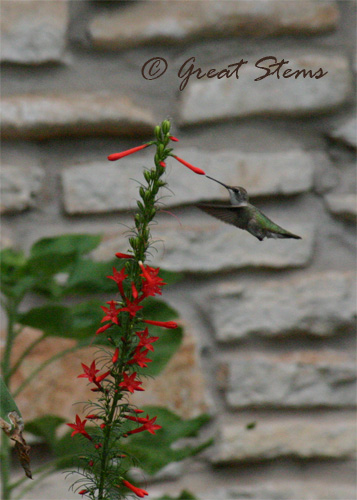 The little lady usually doesn't let me get too close when she's at a bloom — she is much more tolerant when she's at the feeder. Perhaps she's getting used to me and will let me get more flower shots, given the progress above. She used to visit the Salvias, but when the Standing Cypress started blooming, it became her favorite.
The Cinnamon Sun has produced a lovely bouquet. All the flowers are still above the roofline, though. I'm waiting for the lower buds to open up so I can really study the blooms easily.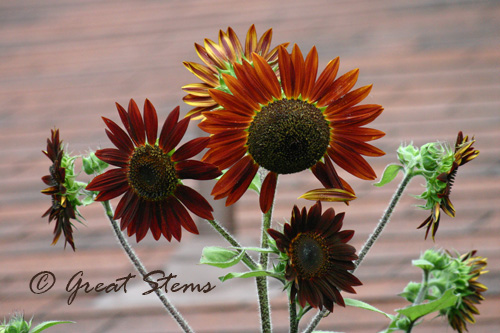 We've had a bit of rain with the tropical systems happening in the Gulf of Mexico — it made for a pleasant relaxed time in the garden. This male Queen butterfly took a long rest on a lantana.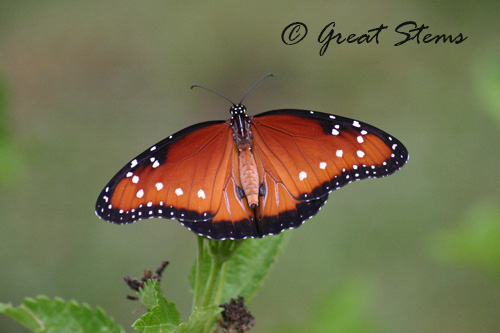 How do you ID a Queen, and a male from female? Many people often mistake Queens for Monarchs, easy to do because they really are lookalike cousins. Soldiers make it even more confusing, and then there are the mimic Viceroys, too! Take a look at the photo again, this time with labels.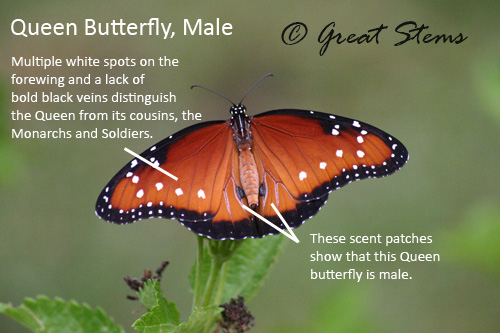 If you'd like more info on IDing the lookalike cousins, click here.
Also resting on the Lantana was this handsome damselfly. I'm needing a nap, just watching these guys. Perhaps the overcast day has something to do with that, too.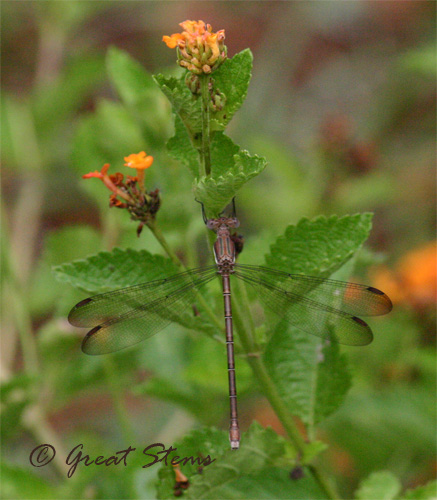 We've had another butterfly release from the Caterpillar Hotel! A black swallowtail emerged and took its time resting and drying its wings. I hope it came from the brown chrysalis from awhile back — I was worried about it taking too long. Now I've got so many chrysalises that I can't tell which came first.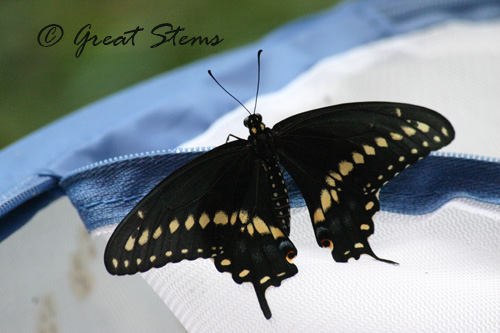 Soon the swallowtail headed over to the butterfly bush for a longer rest. Within a few minutes later, it flew away for its grown-up adventures.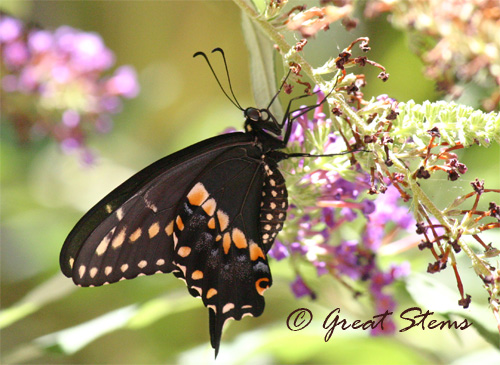 I'm eagerly watching for the Giant Swallowtails to emerge. How can they fit in such a tiny shape?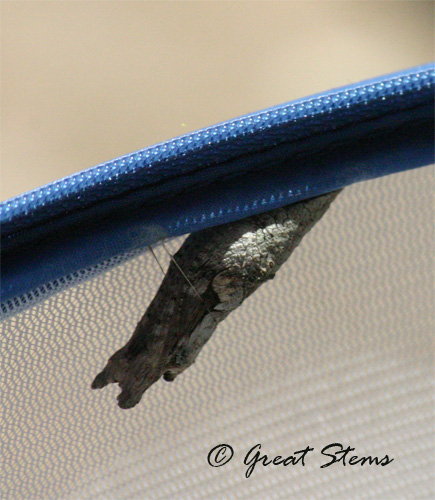 Good news on the tomato front. Over several days we devoured tons of homegrown Romas in homemade spaghetti sauce, and now the Brandywines are starting to produce.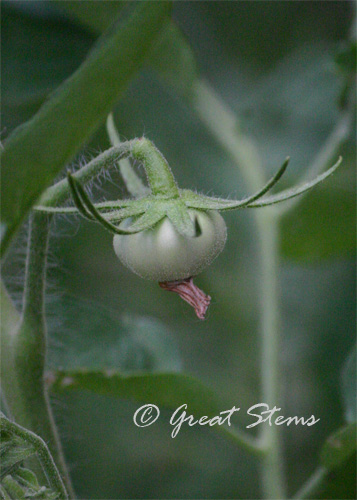 Is that crown an indication of how big the tomato will become? I won't eat these myself — but I hope they'll turn out so I can give them to friends and neighbors. I'm a cooked-tomato kind of girl.
I'm also a pomegranate kind of girl! Lookee, lookee!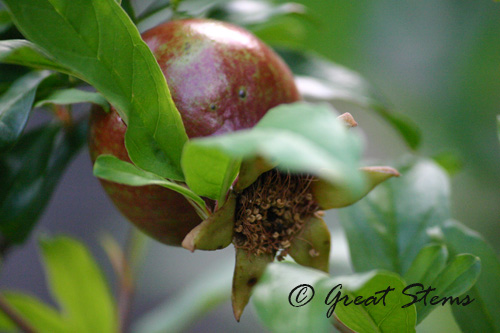 Fun morning in the garden. Had me humming like the hummingbirds. Hoping for more rain, though!