First of all, let me send out a big high-five to all of this year's Blotanical winners and a big thank you to everyone who voted for my little Texan blog. You seriously warmed my heart, and I'm a very happy blogger. It was great fun, and I'm thrilled to have been able to vote for some incredibly awesome blogs out there! And big kudos to Stuart for making Blotanical such a great community and resource.
Now then… I need help! Back in the wild portion of my backyard, I've got a pretty little plant growing and I don't know what it is. And by pretty, I recognize that it's probably not a Texas native (oh, I'm kidding — you KNOW I think all our natives are pretty — this one just looks quite out of place — exotic). I'm giving it my infamous wary eye, as in "you sure are lovely, but if you are here because you are an invasive, you picked the wrong yard to be in."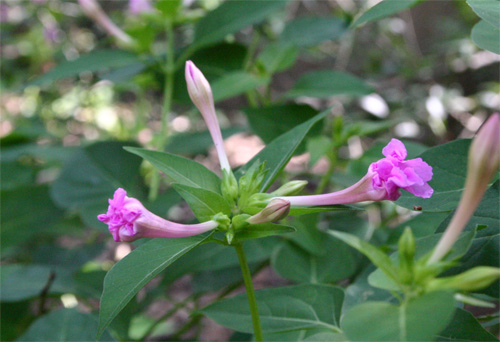 I've been waiting and waiting to get a decent picture of an open bloom, but they're refusing to do more than stay in a crumpled state. So I stopped waiting and got the camera. It looks like it's some sort of pink honeysuckle, but the leaves look a little different from the pictures of honeysuckle I looked at online. It's growing as a shrub.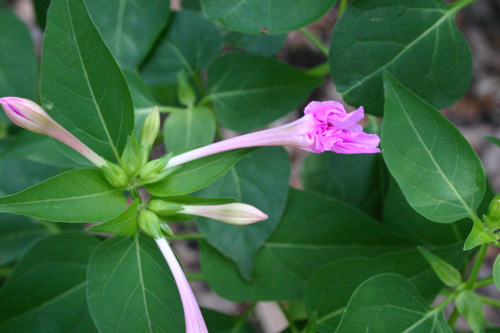 Here I opened up a bloom, and it's just got to be a honeysuckle. Can anyone tell me the plant name and possibly variety? EDIT: The verdict is in, and it's a Four O'Clock (Mirabilis multiflora)– thank you to everyone who identified it for me.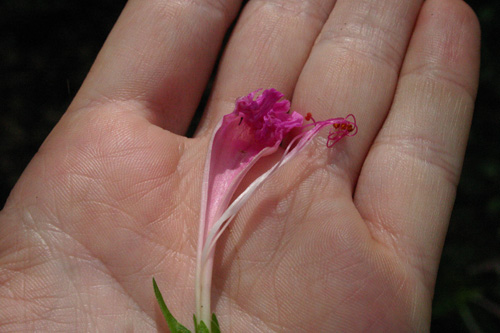 I saw a little native bee trying to figure out how to get into the blooms, but they wouldn't even budge for him.
EDIT: Upon further inspection, four o'clocks might not be Texas natives but it's distributed throughout the state and considered native to U.S. I'm going to let it do its thing, until something or someone persuades me to pull it. And the blooms finally opened — here's a nighttime picture (sorry for the horrible flash; I ran out in the dark while trying to unload groceries). They certainly didn't open at 4 o'clock!