Last weekend was Austin Pond Society's 2011 Austin Pond Tour, an event I always look forward to for the variety, creative design, and masterful engineering of many truly unique water features, large and small. Despite the ongoing Texas heat wave, already well in progess with several 100-plus days and counting (and it's not officially summer yet), each site was busy with visitors. Ice-cold water in hand, A/C en route, and getting friendly Texas-style with other shade-huggers was the way we got through the blazing weekend.
Actually, I'll start the tour with a cactus, because it's about as non-pond as one can get.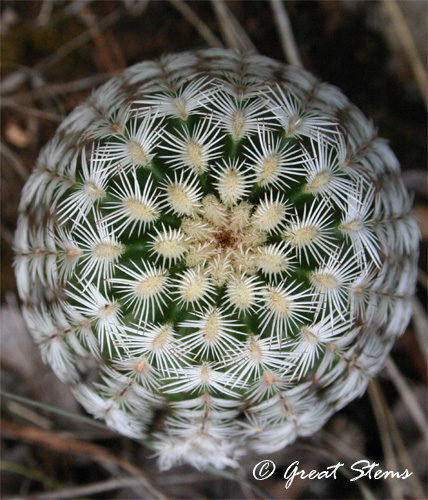 Just before the pond tour, my son and I visited a lovely wildlife garden and then took a tour of Brodie Wild, a habitat restoration and water quality protection project in South Austin. We walked around noting different native plant species, and then our group visited what was dubbed "the cactus patch," definitely an area to watch your step and be careful what you brush up against. I don't know my cacti very well -- is that a Lace Cactus?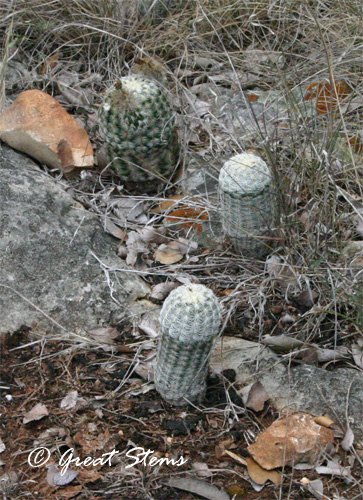 Here's what they look like as they get a little older.
It was blazing hot, yet the cactus didn't really care, of course. We did care, though, so after a refreshing lunch, my son and I switched gears to the Austin Pond Tour, where we got to bake again, but this time at least got to look at water. Yes, I considered jumping right into the cool water of some of the ponds. No, I didn't actually do it.
Several of the ponds on this year's tour have been seen before, including a few highlighted on my 2009 tour post. So last weekend, in the interest of time, we visited ponds being shown for the first time on a tour.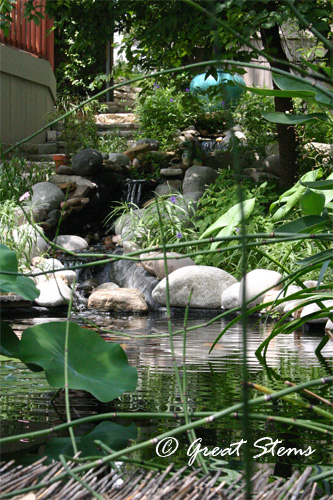 The first we visited was an owner-built pond in Northwest Hills. Dropping from tiered waterfalls, the water flowed down a gurgling stream to the large pond below. The 5-foot depth of the water kept the resident koi safe and cool.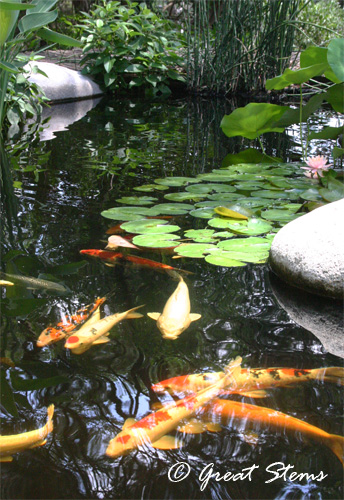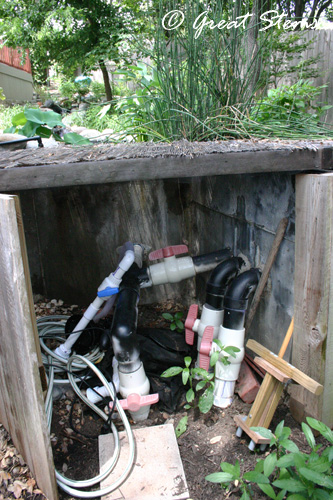 The owners made the four-chamber gravity-flow filter available for tour-goers to view.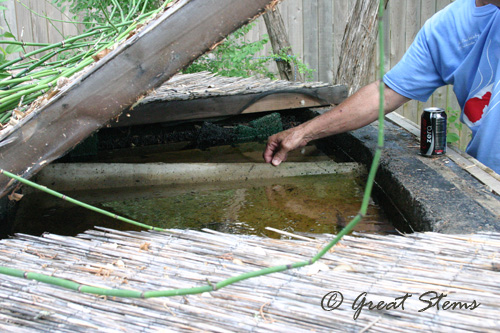 Undeniably a lot of planning for easy maintenance and pond clarity went into creating this lovely pond.
For many of the ponds on the 2011 tour, mountain streams and waterfalls were the theme. Oh, how I wish my yard weren't as flat as a pancake! The residence below, while not exhibiting the substantial slopes of other yards, still had enough of a slope to support the longest stream on the tour.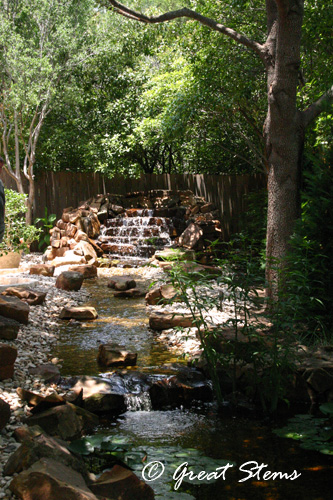 Water from the falls at one end of the backyard flowed into a central pond, then under a bridge to a pond at the other end of the yard.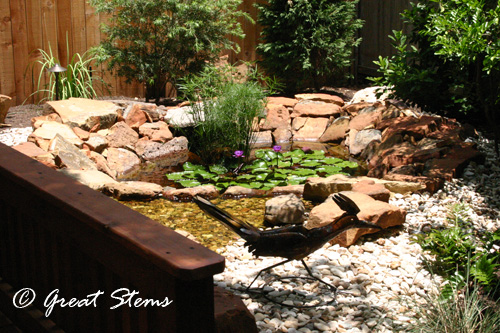 At another house, a mountain stream came complete with a grizzly bear.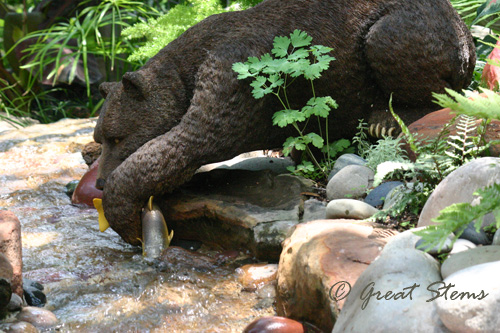 I don't think the bear wants to share its catch.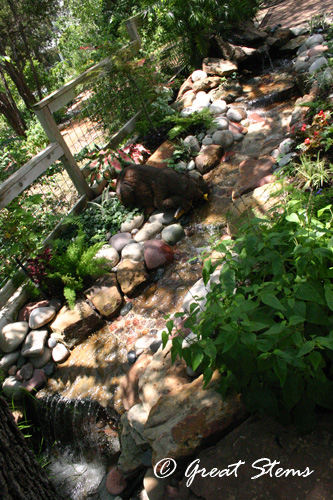 The water feature in full just whisks my imagination off to the Northwest.
Up above on the deck, a hot tub converted to a pond is home for several goldfish. A drain hole in the bottom allows for the world's easiest pond cleaning.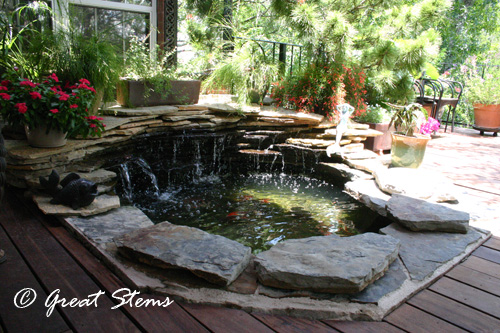 It seemed to me that the majority of ponds on the tour had the benefit of shade. This double pond in South Austin, however, certainly got plenty of sun.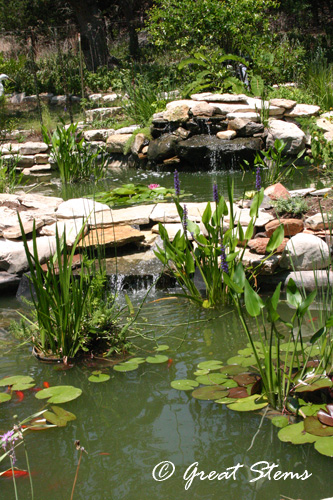 The pond holds about 8,000 gallons of water. In addition, the homeowner has a smaller pond near the house, as well as a front-yard stream that flows alongside the street.
While all the ponds on the tour were impressive in their own right, I had two personal favorites. A long drive north of Austin to Bertram, Texas, proved to be well worth the trip. There we visited the pond and gardens at an old stone house originally built in the 1920s.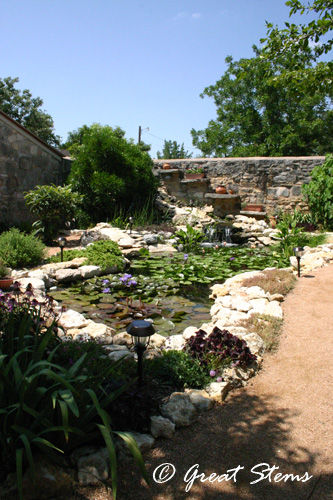 A walk into the courtyard led us to a large, beautiful pond. Take note of the planter shelves on the back wall -- what a nice touch.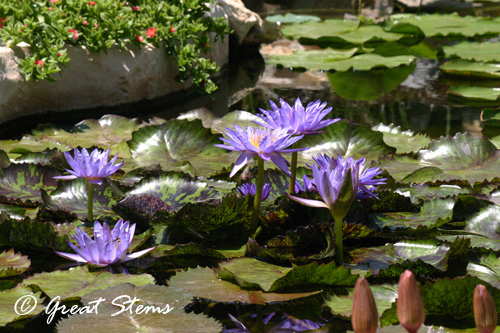 Now, take a step a back and look again.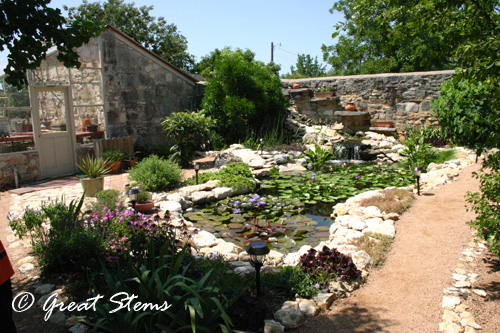 Given my love of all things rock, I couldn't keep my eyes off another feature I now covet -- a greenhouse made of stone.
Here's a view from the other side: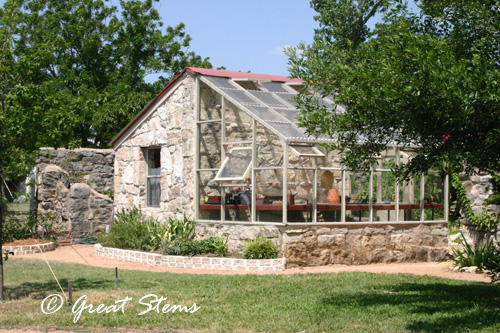 Not many greenhouses get classified as attractive, but this one absolutely does.
The owner let us tour his backyard gardens and small vineyard, and he let my son and me sample some delicious grapes. Sometimes it's good to have a kid with you. I'm just saying.
Another feature at the Bertram house that I especially liked was the walkway that followed a drainage path. Bridges made easy crossing spots.
.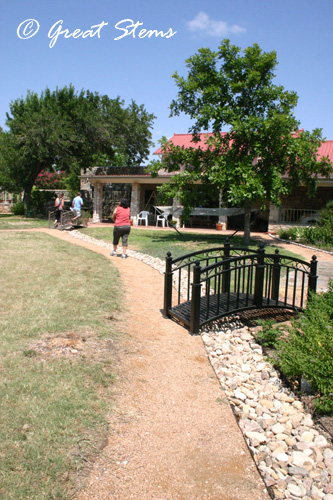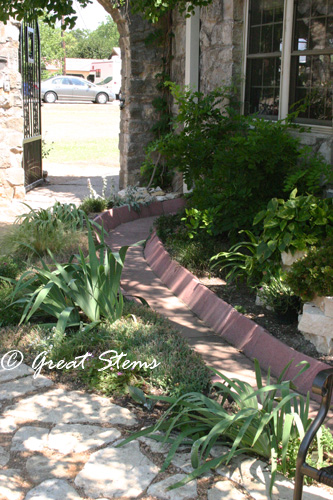 Here's where the water would flow from if we ever had any rain -- a drainspout up at the house. Oh look, just beyond is my car baking in the hot, hot sun.
Of all the water features on the tour, the ones that still keep me saying "wow" are at a home in the Lost Creek area. The home sits on the edge of a natural amphitheater, the back wall of which creates an ideal spot for the ultimate series of waterfalls and streams that eventually lead into ponds below.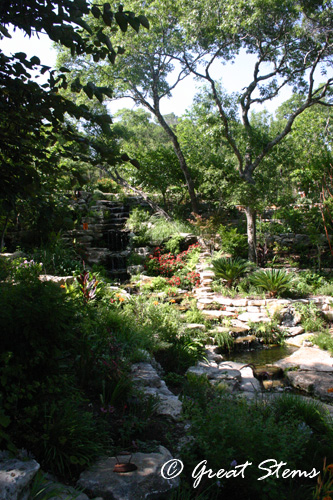 I wish pictures didn't flatten the view so much -- being there in full 3-D was magical.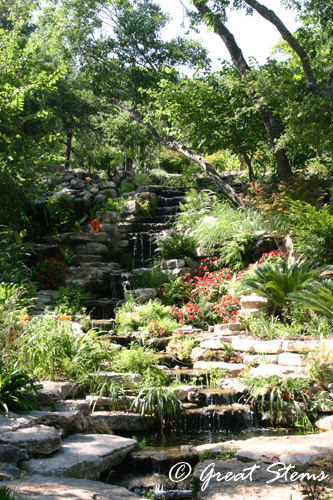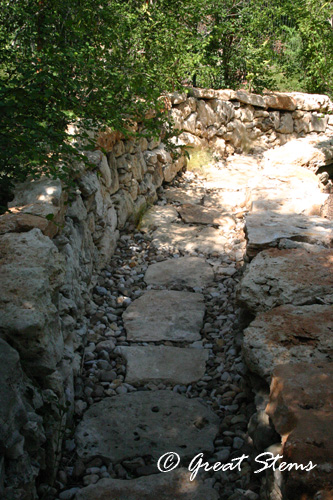 Large boulders created steps on which visitors could climb to the tiered paths above. Ever the dainty understory trees, beautiful Anacacho Orchids lined the walkways.
To one side was a surprising find...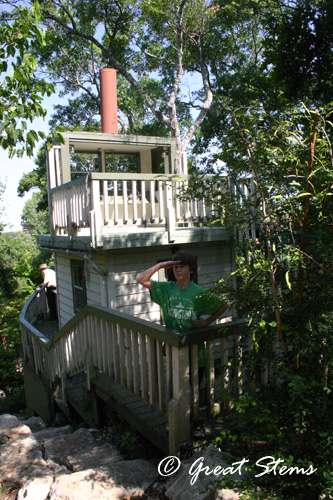 Who needs a tree house when you can have a boat on a mountain?
While we didn't get to attend all the ponds, here are glimpses of a few others: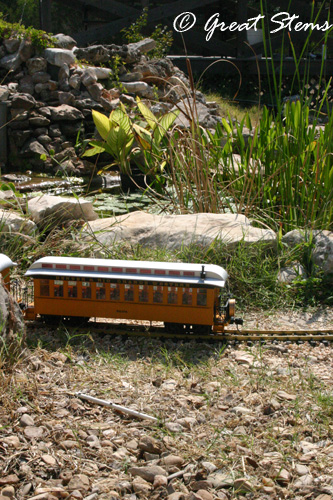 One pond owner included his love of trains in his pond design -- tracks guided trains around ponds, over streams, and through tunnels hidden under waterfalls.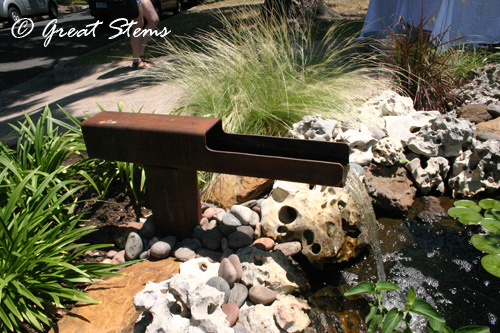 Another pond owner created a metal version of a bamboo fountain for a front-yard pond -- I really liked the look.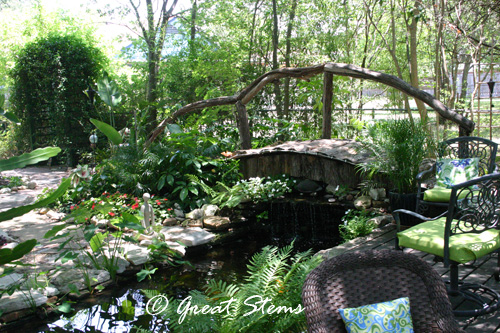 We did re-visit one home that had been on the 2009 tour -- it's just as lush and lovely and full of inspiration as ever! You can see it in more detail in the link above.
I wish I could show pictures of all the ponds we visited, and I wish we could have made it to the ones we didn't have time to see. But perhaps they'll be on another pond tour in the future.
Thank you to all the homeowners who let Austinites visit this past weekend, and thank you to the volunteers who greeted visitors with a big smile despite the heat bearing down all day. Beautiful ponds, all!