Don't eat these. They are not chocolate. They also are not dung beetle balls. Nor are they any other sort of food or poop. Well, actually, that's not entirely true. They contain compost, so I guess they contain manure. And technically the organic matter of the compost is food for little microscopic organisms. But I digress -- what they really are are seed balls. Little round balls of life... and other stuff.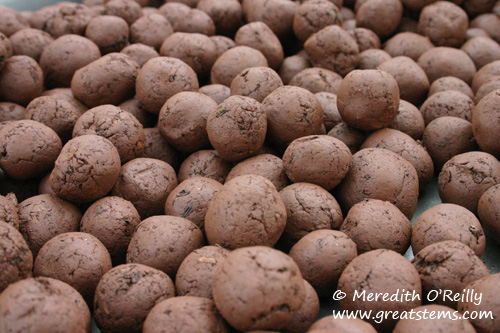 I joined other volunteers on Saturday to make seed ball kits for the fire-stricken Bastrop area. While fire is part of nature's processes, these seeds are meant to restore plants native to the Bastrop area and help accelerate the healing of the ecosystems out there. They contain a special blend of seeds appropriate for the Bastrop area, and these seeds are rolled into little balls of red art clay mixed with sifted compost. The kits will be delivered to schools, where students will make the seed balls, learn about native plants, and be environmental stewards all at the same time, and then the completed balls will be dried, packaged, and delivered to the Bastrop area. Thanks to Healing Hands, Healing Lands for organizing all of this.
This weekend I also volunteered at the Austin Green City Festival. It was held at City Hall, and the busy crowds were made more numerous by Occupy Austin marchers all around the perimeter. It was quite the proactive day, I must say. The Green City Festival offered much information about composting, gardening for birds (that was us), Central Texas wildlife, watersheds and aquifers, recycling, being green, bicycle commuting, green building, pollution, nifty paint re-blends available for free, clean air, and so much more. Tree Folks gave away free tree saplings. Others gave away reusable grocery and produce bags, and more. What fun.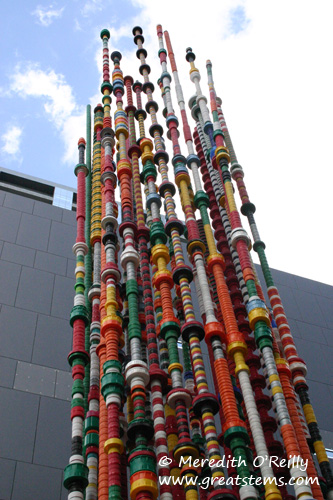 This giant bottle-cap sculture threatened to head toward to the top of nearby skyscrapers. It didn't quite make it. But it tried.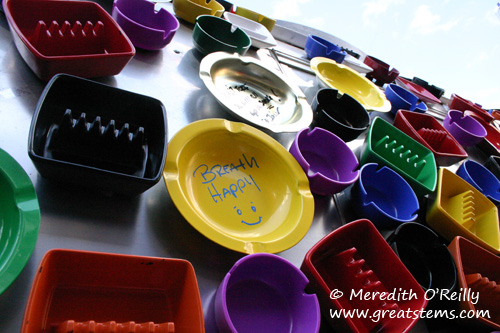 A trailer covered in ash trays gave people a chance to leave positive messages about the importance of clean air and to encourage smokers to quit the habit. My son and I left messages, too. The one shown above wasn't ours, but I liked it because it was smiling back at me.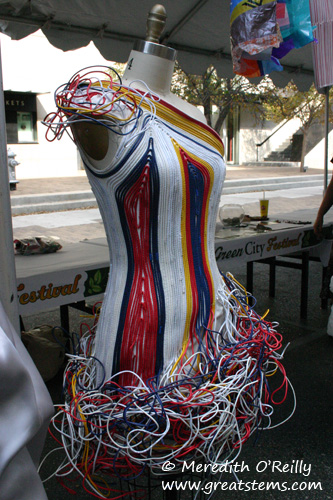 One booth combined trash plus fashion to make Trashion. This dress of cables was my favorite.
I even managed to get a few more plants in the ground this weekend. I also got a few out -- ones that didn't survive the drought. In this case, I didn't mind so much. It finally gave me the incentive to make some minor but well-needed changes to the first garden bed we installed in the front yard.
Oh, by the way, time is running out to enter the giveaway contest for Hill Country Water Gardens and other local nurseries! October 26 at 11:59pm! Don't forget to enter!