Today at school, in honor of Earth Week, the kids donned hats made of reused/recycled materials/trash and had a full-school parade. Well, I just had to have one for the occasion, too. Meet my flowered pillbox hat.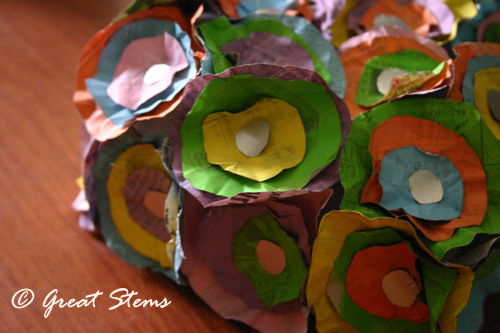 Here are the supplies I used:
Newspaper
Milk jug
Aluminum can
Paints (I happened to have acrylic on hand for another project we're working on)
Paintbrush (I found a use for a foam brush that we've had in our garage for 10+ years)
Scissors
Glue (I used hot glue to speed up the process)
Items to use as circle templates
First, I painted the newspaper and let it dry. I painted the papers pretty thin to conserve paint and because I wanted to show the newspaper print underneath -- this aided in a nice, quick drying time.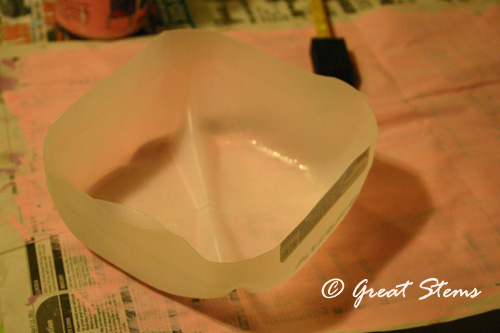 While the paint was drying, I washed the milk jug and cut the lower part off for the hat base (in fact, my son used the upper part for his hat, which I should point out was NOT flowered).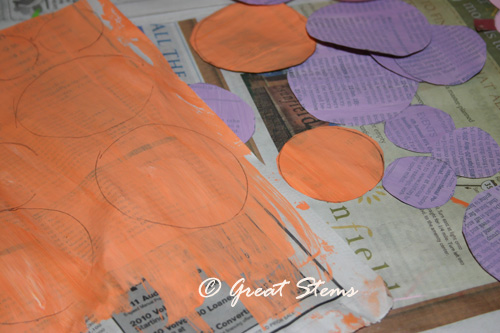 Then I grabbed nearby glasses and paint bottles of various sizes to use as circle templates. I opted for three sizes of circles, the smallest being about the size of a half-dollar coin.
Once I had lots of circles cut out, I arranged them into groups of three, varying the color combinations but always having a large, medium, and small circle in a set.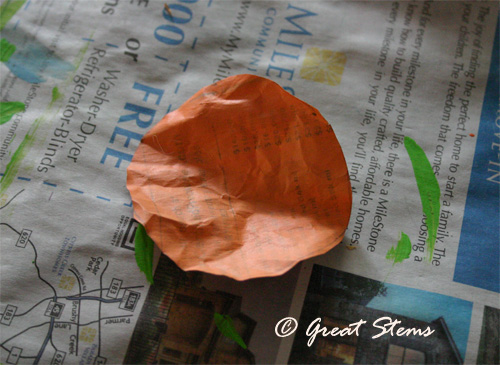 Next, I crumpled up each set of circles into balls then opened them back up. This gave them the flower effect. I stacked and hot-glued each set, then immediately glued each flower to the milk jug. In all, I made 28 flowers, which might sound like a lot but it went fairly quickly.
Finally, I decided to give each flower a center -- my son cut little circles out of an aluminum can for me, then I glued them onto the flowers. And that was that!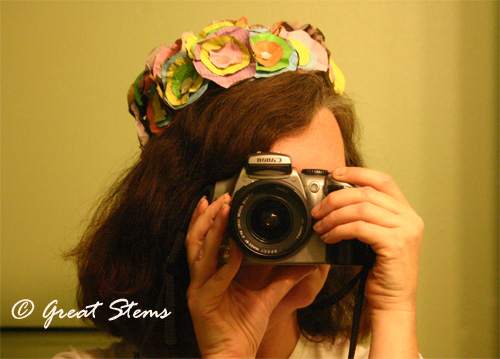 And there's my Earth Day hat. You, too, can have one for the low, low, price of nothing! I wish I could show you all the amazing hats the kids wore at school -- everything from decorated lamp shades to piñata heads to incredible contraptions of aluminum cans, plastic bottles, cereal boxes, plastic grocery bags, and more. So creative!