This weekend I taught all about creating habitats at a conference for kids. As part of the presentation, I brought along this little guy -- one of our black swallowtail caterpillars.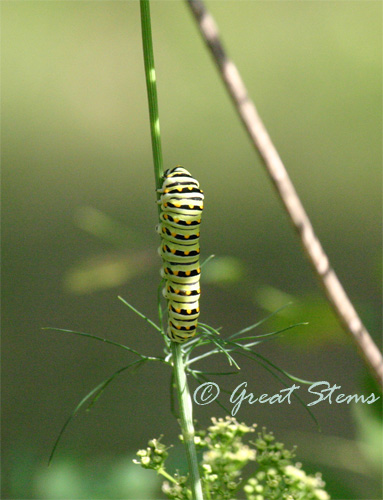 Talk about a wonderful assistant -- not only did he delight the families in the workshops, but he and I visited with a lot of people as I carried him around during the rest of the conference. It was simply too hot in the car for me to leave him in there, so he got to walk around with me, happily munching on dill set in a bouquet of native TX flowers.
When I got home, I let him go back to his world of giant dill in my backyard. Later I walked around to check on my other caterpillars and to look for more. I'm thrilled to have found our first Gulf Fritillary caterpillar on our Passionvine.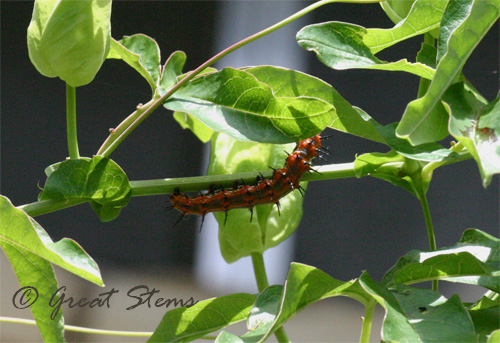 But when I went to check on the new bird poop caterpillars I'd found the day before on my Wafer Ash, I saw with alarm a hornet visiting the leaves of the tree, hunting the same way they hunt the caterpillars on my milkweed. I was relieved to find two of my caterpillars were happily munching on the citrus leaves.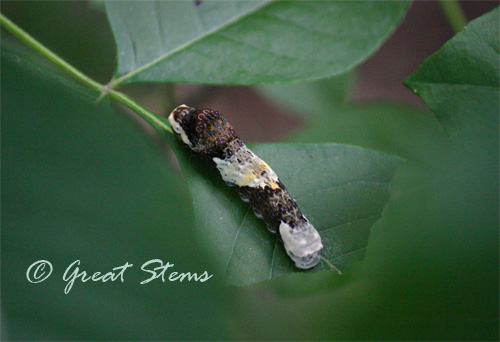 And to my delight, I found lots of eggs all over the tree. Here's a caterpillar with a few eggs nearby.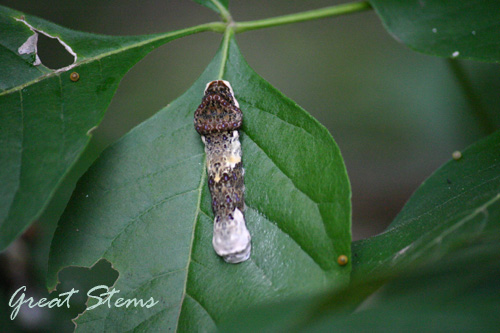 But to my horror, my third little caterpillar was dead. My first thought was that a hornet had killed it, but this was a false accusation, because on closer inspection it was clear that my little caterpillar was being feasted upon by two bugs I didn't recognize. It turns out that they are predatory stink bugs. Predatory stink bugs? I'd never heard of such a thing. And what -- they are considered beneficial bugs in the garden, so I can't get rid of them? I have to just let these stink bugs feast on my caterpillars? Now THAT stinks! I thought having to accept hornets and wasps going after my caterpillars was bad enough. Thinking about it, I saw somewhat similar bugs over on my dill a few days ago. I think I know what's been contributing to the deaths of some of my swallowtail caterpillars.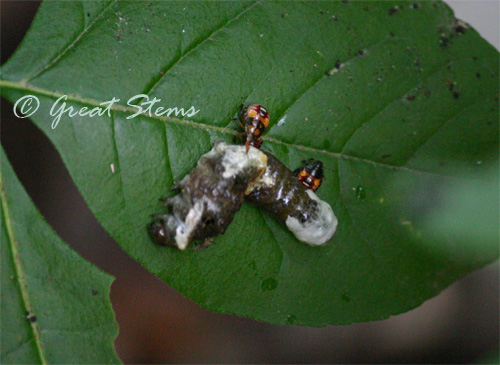 Well, I couldn't bear it the thought of more giant swallowtails falling prey to the terrible sucking tubes of these clearly ferocious predators, so I decided that my remaining caterpillars earned deluxe accommodations in our Caterpillar Hotel, a collapsible laundry basket that has soft, breathable fabric on the sides. It's perfect, and we've had great success so far, with 3 caterpillars going to chrysalis stage. I've released one beautiful butterfly already -- here it is, a Black Swallowtail just before release.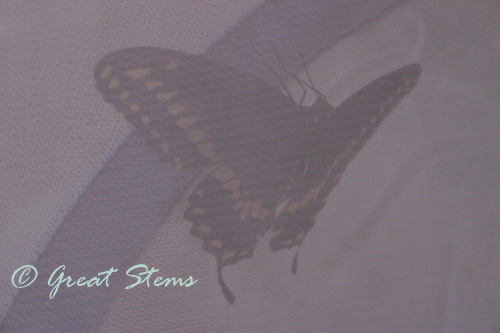 So I gathered dill and wafer ash for the two caterpillar species and put the plants in a bottle of water. Then I collected my caterpillar assistant and my two adorable bird poop caterpillars. Isn't it a lovely Caterpillar Bouquet?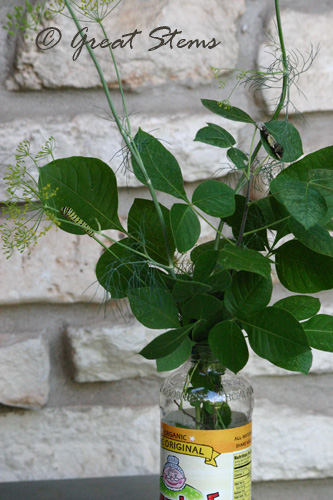 Bouquet in the hotel: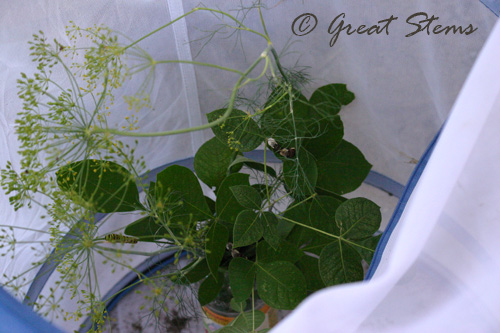 Yesterday I wasn't worried about the Gulf Fritillary (he's on the other side of the yard), but today I'm having second thoughts and might be checking him into the Caterpillar Hotel as well.
I know I can't rescue all my caterpillars -- nature must take its course -- but here and there I don't mind lending them a helping hand.
It might be time to set out a new banana to distract the hornets and wasps, as well. I'll add a rotting one for the butterflies -- they love it so. HOLD ON -- BRILLIANT IDEA -- I'll move the predatory stink bugs to my tomatoes and let them do their thing on my true pest bugs! By Jove, I think she's got it!
Speaking of butterflies, a new species has entered the garden. Bordered Patch -- what a beauty! Unfortunately, my pup scared it off after I grabbed only a couple of shots.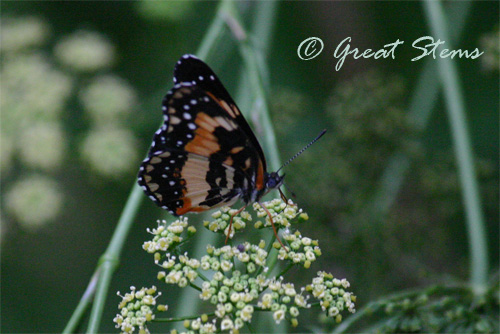 Over on the dill, this damselfly let it all hang out, wings included.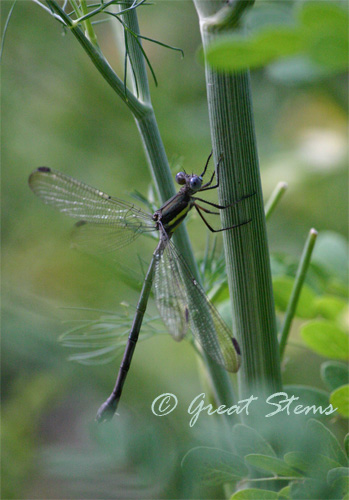 The dill is going to seed. I think it's still pretty, even when brown. There's plenty of dill left for the swallowtails, though.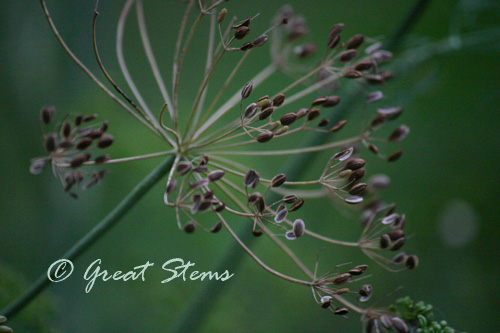 The Cinnamon Sunflower is reaching toward the sky -- now officially taller than its neighbor, the Mexican Redbud tree. I hope the tree doesn't get a complex. Looks like a couple of buds are forming -- I can't wait! The giant sunflowers by the house are still struggling, poor things.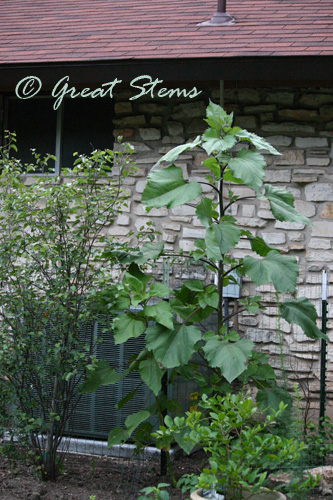 And the pretty Flame Acanthus blooms are flashing red from behind the wispy Big Muhly.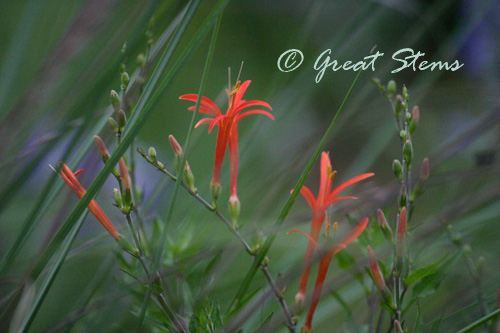 We finally got Mr. Vulture moved -- now he looks down on us from our chimney, as he was always meant to do.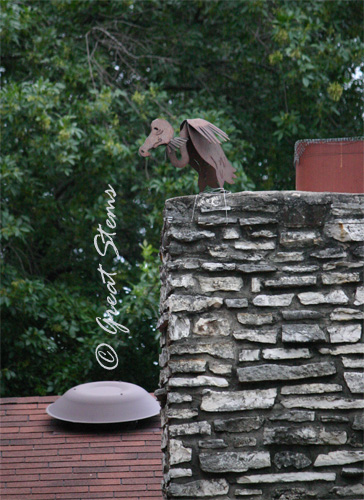 He can stand guard over the Caterpillar Hotel.